HTC recently announced its new flagship smartphone, the HTC One featuring a 4.7in Super LCD3 display and an upgraded HTC Sense User Interface (UI) v5. The quad-core smartphone packs a host of new features including a distinctive zero-gap aluminium body, HTC BlinkFeed, HTC Zoe, HTC BoomSound, HTC Sense Voice and HTC Sense TV.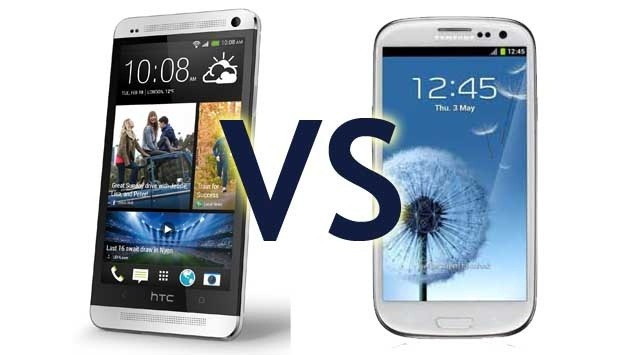 Another notable feature is the UltraPixel camera which promises to deliver 300 percent more light than traditional smartphone camera sensors for enhanced low-light performance. The flagship smartphone is expected to go global (across more than 185 mobile operators and major retailers spanning about 80 regions and countries) from March, while the UK has an expected ship date of 14 March.
Check out how the two heavyweight quad-core smartphones fare in the detailed feature comparison below:
HTC One v Galaxy S3: Display
The HTC One features a 4.7in Super LCD3 display, which is wrapped in a zero-gap aluminium unibody design for enhanced ergonomics (sits comfortably in the hands). It supports a full HD resolution of 1080 x 1920 pixels at a pixel density of 469 pixels-per-inch (ppi), which is notably higher than its Samsung rival, which offers just a 720p display (720 x 1280 pixels at 306ppi) on its tried and tested Super AMOLED screen.
Further, HTC's zero-gap aluminium unibody with unique antenna technology is expected to help users achieve crystal clear signal during phone calls.
Given the superior display technology of the HTC handset, its display is expected to offer better contrast, more natural colours and better clarity under bright sunshine than the Super AMOLED counterpart.
Both the smartphones offer Corning's Gorilla Glass 2 protection against scratches, smudges and other superficial damage to the screen. The Samsung flagship phone retains the TouchWiz UI, while the HTC One gets a revamped Sense UI v5.
HTC One v Galaxy S3: Dimensions
Samsung's Galaxy S3 is 0.7mm thinner (at 8.6mm) and ten grams (g) lighter (at 133g) than its HTC counterpart, which measures 9.3mm in thickness and weighs 143g. The HTC One is also 0.8mm taller than the S3 (at 136.6mm).
The overall dimensions of the two smartphones in comparison are listed below:
HTC One: 137.4 x 68.2 x 9.3mm
Galaxy S3: 136.6 x 70.6 x 8.6mm
HTC One v Galaxy S3: Operating System
The Galaxy S3 ships with Android 4.0.4 (Ice Cream Sandwich) out-of-the-box, which is upgradeable to Android 4.1.2 (Jelly Bean). Samsung's flagship phone features a host of innovative software features such as Smart Stay, which recognises the movements of user's eyes via front camera and adjusts the phone's brightness levels for comfortable viewing and reading. Another key feature of the phone is the advanced natural language UI called "S Voice", which enables voice commands for information browsing and device-user communication.
Among other notable features, the phone supports Samsung's version of Android Beam known as "S Beam" that enables sharing of 1GB movie file in three minutes and 10MB music file in just two seconds by touching the phone with another Galaxy S3 even without Wi-Fi or 3G signal. Direct call, Smart alert, Buddy Photo Share, AllShare Cast, AllShare Play, Group Cast and Pop up play are some of the other features that make the S3 one of the most desirable handsets in the Android market.
On the other hand, the HTC One packs Android 4.1.2 Jelly Bean out-of-the-box, which is further upgradeable to Android 4.2.2. Some of its noteworthy features include HTC BlinkFeed (live-streaming of social, entertainment and lifestyle updates), HTC Zoe (ability to capture three second clips of 1080p video, while simultaneously shooting stills), HTC BoomSound with Beats Audio integration, HTC Sense Voice (boosts call Volume and quality in noisy environments for louder and clearer phone calls) and HTC Sense TV (an interactive programme guide and remote control for TVs, set-top boxes and receivers) which make an impressive package for Power users and tech-enthusiasts alike.
HTC One v Galaxy S3: Processor and RAM
HTC One offers a powerful quad-core 1.7GHz Krait 300 processor integrated on Qualcomm's Snapdragon 600 chipset, reportedly the first chipset to integrate four cores of 1.7GHz Krait 300 processor onboard. The Snapdragon chipset also includes an Adreno 320 GPU for graphics processing. According to Qualcomm, the new CPU is expected to deliver unprecedented performance per watt and consequently offer great battery life.
The Galaxy S3, on the other hand, is powered by the Exynos 4412 Quad chipset based Cortex-A9 processor with all its four cores clocked at relatively lower 1.4GHz. The phone's graphics processing is done by the Mali-400MP GPU.
The Galaxy S3 features just 1GB of RAM, while the HTC One offers twice its memory with 2GB of RAM.
According to recent benchmark tests conducted by GSM Arena, the HTC One easily blows away all competition in overall scores against its nearest rivals: Sony Xperia Z, HTC Butterfly, HTC One X+, HTC One X, Samsung Galaxy S3 and Nexus 4. Although the Galaxy S3 managed to beat the Nexus 4 and HTC Butterfly in a few tests, it failed to pose any threat to the powerful HTC One.
HTC One v Galaxy S3: Camera
The HTC One comes with a four megapixel (2688 x 1520 pixels) rear camera with UltraPixel sensor, which captures 300 percent more light than traditional smartphone camera sensors to deliver enhanced low-light performance with both stills and videos. In addition, its ultra-wide angle 2.1 megapixel front-facing camera offers 1080p video capture at 30 frames per second (fps), while the multi-axis optical image stabiliser for the rear camera enables smoother and clearer video-recording even when the camera is in motion. HTC's UltraPixel camera also features enhanced 360 panorama mode for stitching a sequence of stills to form a complete picture in landscape mode.
On the other hand, the Galaxy S3 features an eight megapixel rear camera with zero-lag shutter speed that enables easy capture of moving objects. Other notable camera feature includes burst-shot function which instantly captures twenty continuous shots. The S3 also equips a 1.9 megapixel front camera for video capture up to 720p at 30 fps.
HTC One v Galaxy S3: Connectivity
Both the smartphones feature Wi-Fi Direct, Wi-Fi hotspot and Bluetooth v4.0 with A2DP connectivity options. The Galaxy S3 supports Wi-Fi 802.11 a/b/g/n standards, while the HTC One offers Wi-Fi 802.11 a/ac/b/g/n standards. It offers data speeds of HSDPA up to 21 Mbps and HSUPA up to 5.76 Mbps.
Both the smartphones support Near Field Communications (NFC). The only key difference is that the HTC One supports 4G networks, while the Galaxy S3 is limited to 3G.
HTC One v Galaxy S3: Storage
The HTC One comes in just two storage variants: 32 and 64 GB, while Galaxy S3 offers an additional 16GB storage variant, besides 32 and 64 GB models.
There is no microSD expansion slot available for HTC One, but the Galaxy S3 holds an edge with up to 64GB microSD expansion slot.
HTC One v Galaxy S3: Battery
The Galaxy S3 is powered by a 2100mAh battery, which promises to deliver up to 590 hours of standby and about 21 hours of talktime on 2G network. In other words, it is expected to offer up to 790 hours of standby and about 11 hours of talktime on 3G network.
HTC One packs a powerful 2300mAh battery whose battery-life details are yet to be revealed.
HTC One v Galaxy S3: Price
The HTC One is likely to hit the UK market on 14 March and the handset is now available for pre-order via Phones 4u on a contract deal of £36 per month. The handset is available in Glacial Silver and Stealth Black variants from UK's Clove Technology, which has priced the SIM-free version of HTC One at £510 (including VAT). This is about £60 more than the Galaxy S3's SIM-free version, which is priced at £450.