The HTC One X has been in the spotlight ever since it was launched at the 2012 Mobile World Congress (MWC). It is undoubtedly HTC's flagship smartphone, packed as it is with great features.
One of the Android OS's leading smartphones, the One X poses a serious threat to the likes of the to-be-launched iPhone 5 and Samsung's Galaxy S Blaze 4G. However, the latter phone is really not a pushover!
According to a press release from PRWeb, the launch of the Blaze 4G is scheduled for 28 March at midnight PDT. The new smartphone will be up for grabs on Wirefly - the Internet's premiere retailer - at a special price of $149.99 with instant discounts for new and upgrade-eligible T-Mobile customers. The phone will be launched exclusively on T-Mobile and debut on Wirefly's online sales service.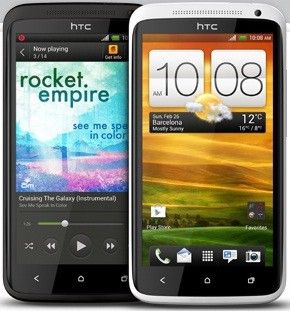 Check out the feature comparison between these two leading Android smartphones...
Display: The HTC One X sports a 4.7in (720x280pixels) Super IPS LCD2 capacitive touch-screen display with 312ppi (pixels per inch) pixel density and scratch-resistant Gorilla Glass empowerment. In contrast, the Galaxy Blaze 4G features a 3.97in Super AMOLED capacitive touch-screen (480x800 pixels) at 235ppi pixel density, adding support for multi-touch input.
The One X is the clear winner here, with superior IPS LCD2 display technology that promises better picture clarity and colour than its AMOLED counterpart.
Dimensions: The One X weighs 130g and measures 134.36x69.9x8.9mm. By comparison, the Blaze 4G weighs almost the same at 127g, it is slightly smaller and heavier at 121.7x62.9x11.2mm.
Riding on its slim form-factor (just 8.9mm thick), the One X clearly beats Blaze the 4G in this category.
Memory: The HTC smartphone ports with 1GB of RAM and 32GB of internal memory sans support for microSD slot. In contrast, the Blaze 4G also supports 1GB RAM with a choice of either 16GB or 32GB of onboard storage, besides support for microSD expandable memory up to 32GB.
With support for microSD slot for external memory upgrade, the Blaze 4G is the clear winner in this department.
Operating System: The One X will run on Ice Cream Sandwich (Android 4.0), while the Blaze 4G is left wanting with the rather outdated Gingerbread (Android 2.3) platform. The former harbours the Sense 4.0 UI onboard, while the latter will port with TouchWiz 3.0 or better.
HTC's Sense UI will provide slick and seamless font/image rendering quality particularly with web browsing, while the TouchWiz UI provides zippy and smooth user experience. There is no clear winner in this category and it is a draw.
Processor: HTC's flagship smartphone boasts a powerful 1.5 GHz Nvidia Tegra 3 quad-core processor. Meanwhile, there is good news for US consumers, as the US version running on AT&T will sport a superior 1.5 GHz Qualcomm S4 dual-core chip. That should truly complement the speed of 4G LTE services offered by AT&T. In contrast, the Blaze 4G will sport a 1.5GHz Scorpion processor based on Qualcomm's MSM8260 Snapdragon chipset.
Riding on the power of Nvidia's Tegra 3 quad-core technology, the One X clearly outruns the inferior dual-core powered Blaze 4G, particularly with multimedia and gaming.
Connectivity and Network: The One X will support LTE connectivity over AT&T's HSPA+ 4G network across 850/900/1900 and 2100MHz network bands. The connectivity options also include Wi-Fi 802.11 a/b/g/n, besides supporting Wi-Fi hotspot and Bluetooth v4.0 with A2DP. On the other hand, the Blaze 4G is designed to operate on T-Mobile's blazing-fast HSPA+42 networks at 4G speeds. The connectivity options are same as the One X.
There is no winner in this category, as both smartphones support 3G and 4G.
Camera: The Blaze 4G has a five megapixel auto-focus rear-facing camera and a 720p HD video recorder (30 fps), while sporting an identical 1.3 megapixel front-facing camera (for video chatting) like its HTC counterpart. In contrast, the One X offers a more powerful eight megapixel rear-facing camera (3264x2448 pixels) with autofocus and LED flash, besides offering full HD video recording at 30fps. Both phones include advanced camera features such as Geo-tagging, touch focus, face and smile detection and image stabilization.
With a superior eight megapixel rear-facing camera and adding support for full HD video recording, the One X wins the camera contest hands down.
Battery: The Blaze 4G features a standard 1750mAh Li-ion battery, while the One X sports a similar sized 1800mAh Li-Po battery.
With both the smartphones flaunting near equal-sized batteries, there is no clear winner in this category.