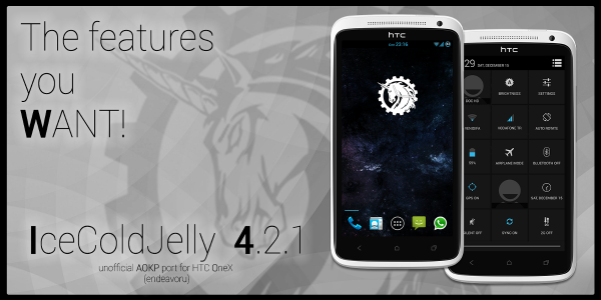 HTC One X users can now relish the latest Android 4.2.1 Jelly Bean update on their devices with the release of AOKP IceColdJelly custom ROM. The ROM is based on the latest AOSP release for Android 4.2.1.
There is still no word on the release of the official Android 4.2.1 update for the One X from HTC. Users can still grab the latest Android 4.2.1 update with the AOKP custom ROM by following the guide below.
New features of Android 4.2.1 AOKP IceColdJelly ROM
Flash boot.img
Random reboots and WLAN reboots fixed
WLAN tether now has working security network mode
Added Hardware keys mapping (Settings/Display)
Removed AOKP PerformanceControl from the build
Enabled back LED settings in ROMControl
Fixed Taking photos while video recording (1080p has some issues)
Added MenuUI overflow button - AOKP
Fixed Long Press Back button functionality
Using prebuilt camera lib, not building it from HAL anymore
Added back Powermodule HAL to the build - needs testing
Added Button Notification Light option (Settings/Display)
Interactive set as default governor
Used Calculator app repo from CM
Added a bunch of new options to Camera from CM
Updated kernel with BT drivers to 3.1.10; integrate some tegra references patches for BT
Added CPU boosting modifications from CM
Fixed some bugs under the hood - AOKP and CM
Enhanced battery performance while browsing
The ROM is still under development and will get more options via future updates
Broken Features or Known Bugs
A2DP for Bluetooth is not fully functional
Wi-Fi direct is buggy
In call volume works, but not quite well in Speaker mode
MHL output rotates incorrectly to portrait in horizontal mode (but workaround added since alpha 8 for hardware decoded videos or YouTube. Use BSPlayer from Play Store, almost all videos play with it in correct rotation in HWoverlay)
No FM radio app in ROM. But Spirit FM works from market
Key Points to Note
AOKP IceColdJelly custom ROM and the instructions given in this guide are applicable for the international variant - HTC One X model only. It will not work with any other device. Verify your device's model number by navigating to Settings > About Phone.
IBTimes UK advises users to back up apps, important data and settings to prevent data loss while flashing the AOKP IceColdJelly ROM on the HTC One X.
Verify that the correct USB drivers are installed for HTC One X on your computer (download USB drivers)
Enable USB debugging mode on your phone by navigating to Settings > Developer Options (if running Android 4.0 Ice Cream Sandwich) or Settings > Applications > Development (if running Android 2.3 Gingerbread). If the device is running Android 4.2 Jelly Bean onboard, then perform the following steps:
o Go to Settings > About Phone.
o Scroll down to the bottom and select "Build number."
o Tap on "Build number" about seven times. Right after the third tap, you will see a dialogue box that says you are only four taps away from being a developer. Continue tapping four (4) more times.
Make sure that your phone has at least 85 percent battery charge to prevent unexpected device shutdown (due to battery drain) while flashing the AOKP IceColdJelly custom ROM on your HTC One X.
Ensure that your phone's bootloader is unlocked, and the device is rooted with ClockworkMod Recovery installed on it.
Make sure that ADB and Fastboot mode are configured on your computer.
The instructions provided in this guide are meant for reference purpose only and do not cover any warranty claims involving device damage or issues arising out of installing the Android 4.1.2 Jelly Bean custom firmware. Users are advised to proceed at their own risk.
How to Install Android 4.2.1 Jelly Bean on HTC One X with AOKP IceColdJelly ROM
Step 1 - Download Android 4.2.1 IceColdJelly ROM for HTC One X on your computer and extract boot.img from the zip file separately. Download Google Apps package as well.
Step 2 - Connect and mount your HTC One X USB mass storage on your computer with original USB cable.
Step 3 - Copy the AOKP IceColdJelly ROM and Google Apps zip files to the root folder on your phone's SD card.
Step 4 - Copy and paste the boot.img file to android-sdk-windowsplatform-tools directory.
Step 5 - Power off your phone and boot into the bootloader/fastboot mode. To do so, switch on the phone by pressing and holding Volume Down and Power buttons together.
Step 7 - Once the device enters Fastboot mode, navigate to android-sdk-windowsplatform-tools directory (on your computer) and launch Command Prompt (press Shift and Right-click > Open Command Prompt).
Step 8 - Type the following command and hit Enter.
fastboot flash boot boot.img
Step 9 - Type the following command and press Enter.
Step 10 - Follow the navigational instructions onscreen and select Bootloader, and then enter Recovery mode.
Step 11 - In CWM recovery, wipe data first. Then navigate to Flash zip from SD card option and hit the Power button to select it.
Step 12 - Tap the Power button again and click Choose zip from sdcard.
Step 13 - Use volume keys to navigate to Android 4.2.1 ROM zip file and select it by tapping Power button. Confirm the ROM installation on next screen and the installation will begin.
Step 14 - Once the ROM is installed, hit Go Back and reboot the phone by tapping Reboot System Now in the recovery menu. The phone will automatically reboot and the first boot may take about 5 minutes to complete. So, leave it alone.
Android 4.2.1 AOKP IceColdJelly custom ROM is now installed and running on your HTC One X. Go to Settings > About phone to verify the firmware version installed.
[Source: Team Android]