At least 65 people have died and 150 others horrifically injured in an explosion which ripped through a factory in the city of Kunshan, Jiangsu Province, 50km west of Shanghai in China.
Zhongrong Plating workshop manufactures wheels for companies including US-based General Motors. The blast is thought to have occurred when machinery generated sparks in a workshop containing inflammable metallic dust, according to state news agency Xinhua.
China Central Television (CCTV) broadcast footage of plumes of dark smoke rising from the factory. Footage also showed injured workers sitting outside and being stretchered to waiting ambulances on wooden pallets, many with serious burns and breathing problems after inhaling smoke.
A local restaurant owner said he and others in the neighbourhood weren't initially aware of the seriousness of the blast.
"It was not the kind of huge blast that shattered glasses or threw you off bed. Many people living nearby were not sure that they had heard it happening," he said. "I find it hard to believe that so many lives were lost. This is an old industrial town. We have not seen anything so deadly."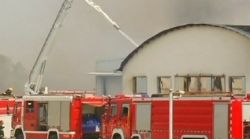 The explosion occurred at around 7.30am local time (12.30am GMT).
Local hospitals have asked hospitals in Shanghai for help.
In another indicator of the seriousness of the incident, authorities in Kunshan have also set up emergency blood-collection points.
A local pharmacy worker who declined to be named said: "The factory seemed to be a mess inside, with lots of smoke, but almost everything outside remained intact... The death toll was high probably because the destructive force was limited in a narrow space and there was no way to escape."
A rescue operation is still in place and Communist Party officials are travelling to the site to conduct an investigation. Two company executives have been detained.
Industrial accidents are common in China, with over 70,000 workplace deaths recorded in 2012 – nearly 200 every day. Last year over 120 died in a blaze at a poultry factory in Dehui, Jilin.
A worker told the South China Morning Post that some exits had been kept locked to prevent workers going to the toilet.