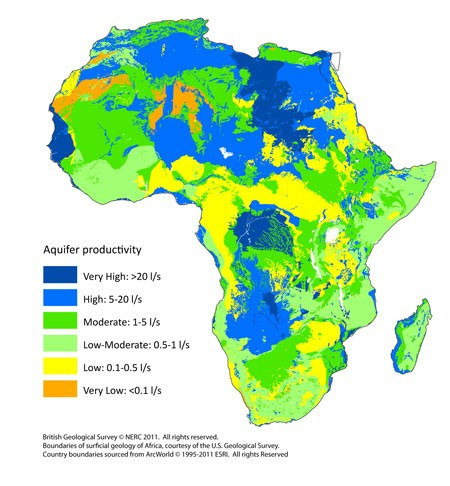 Even though some parts of Africa have scarcity of good water, scientists claim that there are huge groundwater resources in Africa.
Scientists from the University College London and the British Geological Survey have discovered that there are huge underground water reserves in Africa. They found this after studying data from Africa's hydro geological maps and analysing more than 200 aquifer studies from several publications.
The scientists found that the African continent contains 100 times more groundwater than water found on the surface.
According to the study, several countries in Africa such as Libya, Algeria, Egypt and Sudan have good water resources.
Scientists have created a map that could help African governments get more fresh water resources. The map shows wide variation in groundwater resources across the continent; it also clearly pinpoints the fresh water spots that could be tapped for digging borewells.
"High yielding boreholes should not be developed without a thorough understanding of the local groundwater conditions," Phys Org quoted Dr Alan MacDonald, researcher at the British Geological Survey, as saying.
Currently, there are more than 300 million people in Africa without access to safe drinking water, many of whom are amongst the poorest and most vulnerable in the world. Consequently, increasing access to improved water supplies is an international priority. Even for those with access to improved water sources, there is growing evidence that domestic water use will need to increase substantially to help move people out of poverty, according to an Environmental Research Letters report.
"Groundwater is such an important water resource in Africa and underpins much of the drinking water supply. Appropriately sited and developed boreholes for low yielding rural water supply and hand pumps are likely to be successful and resilient to climate change," Dr MacDonald said.
Researchers claim that the map could probably help the African government get hold of fresh water resources. They believe that groundwater may be able to support small-scale irrigation in some places in Africa.
They also believe that people in Africa could get access to clean and fresh water with the help of the map.
"This is an important discovery," the BBC quoted Andrew Mitchell, Secretary of State for International Development in the UK, as saying. "This research, which the British Government has funded, could have a profound effect on some of the world's poorest people, helping them become less vulnerable to drought and to adapt to the impact of climate change," he said.