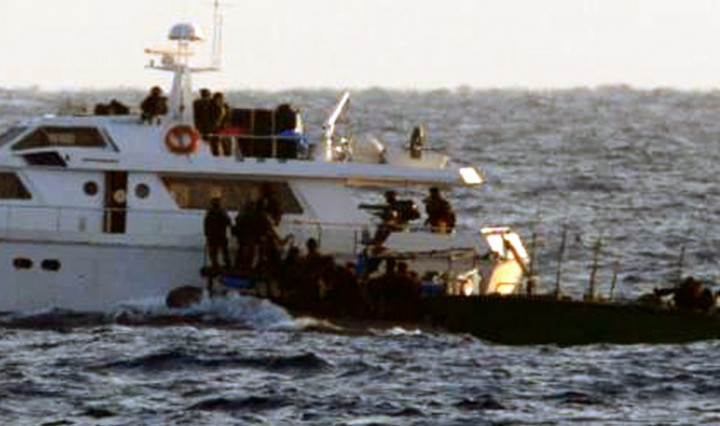 Pro-Palestinian activists have been beaten and are being held against their will in an Israeli prison following the interception and boarding of Canadian boat the Tahrir and Irish vessel Saoirse by Israeli naval forces on Friday, says human rights activist group USTOGAZA.
The two boats formed the latest attempt by peaceful protesters to break the Israeli sea blockade of the Gaza strip, enforced since 2007.
Laurence Davis, spokesman for the Irish Ship to Gaza, said all contact was lost between the delegates on the boat and their support network following their capture by the Israelis at 1.58pm GMT on Friday. He said the first information they had received about the status and well-being of those on board was from a text message sent by one of the activists from a phone smuggled into Givon prison later that evening.
"Kidnapped, being held against our will. Boat nearly destroyed by Israeli army in international waters. Need government to press for immediate release," the text message said.
The detainees were prevented from contacting friends or family for the first 24 hours of their incarceration, Davis said, although two activists were allowed to make brief phone calls on Sunday.
Irish Ship to Gaza National Coordinator Fintan Lane and Irish Socialist party MEP Paul Murphy gave accounts of violence and dangerous behaviour perpetrated by Israeli forces toward the flotilla delegates.
"The takeover of the MV Saoirse was violent and dangerous. Despite very clear protests from the occupants of the two boats that they did not want to be taken to Israel, they were forcibly removed from the boats in a violent manner," Lane said.
"Our boat was almost sunk by the manner in which it was approached and boarded by the Israeli navy. People were shackled and deprived of all personal belongings," said Murphy in a phone conversation on Sunday.
"In Givon prison the authorities tried to disorientate us through sleep deprivation and the removal of our watches and the prison clock recording the wrong time. We have been given no time frame as to how long we will be kept here before the deportation trial. We were denied our right by Israeli law to contact our families within 24 hours of our arrest," he added.
Lina Attalah, a journalist on board Canadian boat the Tahrir, also described how she was strip-searched by Israeli soldiers and had all her notes and equipment confiscated; while in a letter smuggled out of the prison, Canadian David Hemp explained how he was tasered and beaten after his capture.
Human rights groups say the behaviour of the Israeli forces "flatly contradicts the Israeli narrative that Israel 'took every precaution necessary to ensure the safety of the activists on board the vessels.'"
"There are many, many false claims in what they [the activists] are saying," said IDF spokeswoman Leitenant-Colnel Avital Leibovitz. "Such as the action was not legal because it was in international waters. This is not relevant because any country is entitled to act in international waters if it has a breach of security.
"A security blockade is something you cannot play with, either you have a reason to impose it or you do not. You can't just lift it for a few days [to let some activists in]... I can also tell you that no soldier has beaten anyone. These are mere lies, and these lies actually add to a long list of lies. We don't beat people, that's not the way we work... We abide by the rules," she added.

Givon prison has refused to comment on the situation, and would not confirm whether or not they are currently detaining the activists against their will.
Israel has maintained an almost total blockade on the Gaza strip since 2007 in a policy that human rights activists refer to as a form of "collective punishment " for Gaza's 1.6 million citizens.
The legality, or otherwise, of the Israeli blockade is a hotly contested issue, with conflicting consensuses being drawn on either side. In September 2011, a UN investigative committee concluded in the Palmer Report that the blockade was legal.
"The problem with the Palmer Report is that the report itself notes that it was 'not asked to make determinations of the legal issues' associated with the blockade," said Laurence Davis. "So in other words, the Palmer report is a political report, written by and written for politicians. Most recently, on Sept. 13, 2011, a group of 5 independent UN rapporteurs for human rights concluded that 'the blockade of Gaza continues to violate international law'," he added.