Some smartphone games have been found using a specific software that uses your device's microphone to track users' TV watching habits and collect data for advertisers. According to a recent New York Times report, more than 250 games on the Google Play Store use software from a company called Alphonso that uses the smartphone's mic to listen for audio signals in TV ads and shows.
The data collected is then sold to advertisers for ad targeting and analysis.
NYT reports that the software is used in games, some of which are geared towards children. Although the software does not record human conversations, it can detect sounds even when a phone is stowed away in someone's pocket and the apps are running in the background.
Alphonso's chief executive Ashish Chordia told NYT that the company has also worked with film studios to analyse viewers' movie-watching habits in theaters as well.
"A lot of the folks will go and turn off their phone, but a small portion of people don't and put it in their pocket," Chordia said. "In those cases, we are able to pick up in a small sample who is watching the show or the movie."
While most apps seemed to be available in the Google Play Store, the Times noted that some were on Apple's App Store as well.
Although the software's activities are creepy, some of the apps do disclose its tracking of "TV viewership details" in their descriptions under the "read more" button and software use policies.
Both Apple and Google require apps to get explicit permission from users in order to access certain phone features such as the camera, microphone, location, photo gallery and more. However, most users don't usually read the disclosure and are often unaware they have agreed to let the app access their phone's microphone.
"The consumer is opting in knowingly and can opt out any time," Chordia said. He also noted that the company's disclosures comply with Federal Trade Commission guidelines and offer instructions for users to opt-out of the software on its website.
He added that the firm does not approve of its software being used in apps targeting children. However, it has been found integrated into a number of games such as "Teeth Fixed" and "Zap Balloons" by India-based KLAP Edutainment.
A simple search for "Alphonso software" and "Alphonso automated" on the Play Store yields numerous apps that integrate the software.
One game called "Dream Run" by Dumadu Games - which has been downloaded and installed by about 5000 to 10,000 users - discloses under a "Read More" button that it is integrated with Alphonso Automated Content Recognition (ACR) software.
"With your permission provided at the time of downloading the app, the ACR software receives short duration audio samples from the microphone on your device," the disclosure reads. "Access to the microphone is allowed only with your consent, and the audio samples do not leave your device but are instead hashed into digital 'audio signatures.'
"The audio signatures are compared to commercial content that is playing on your television, including content from set-top-boxes, media players, gaming consoles, broadcast, or another video source (e.g., TV shows, streaming programs, advertisements, etc.)."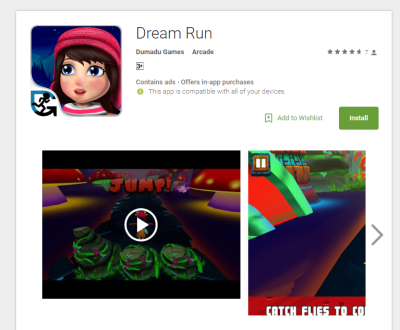 The revelation does seem to echo the years-long conspiracy theory that apps by major tech giants such as Facebook tap into users' smartphone mics to secretly listen in on conversations and offer up relevant ads. Facebook has long tried to dismiss the speculation.
"We have to be really careful as we have more devices capturing more information in living rooms and bedrooms and on the street and in other people's homes that the public is not blindsided and surprised by things," Dave Morgan, the founder and CEO of Simulmedia that works with marketers on targeted ads, told the Times. "It's not what's legal. It is what's not creepy."