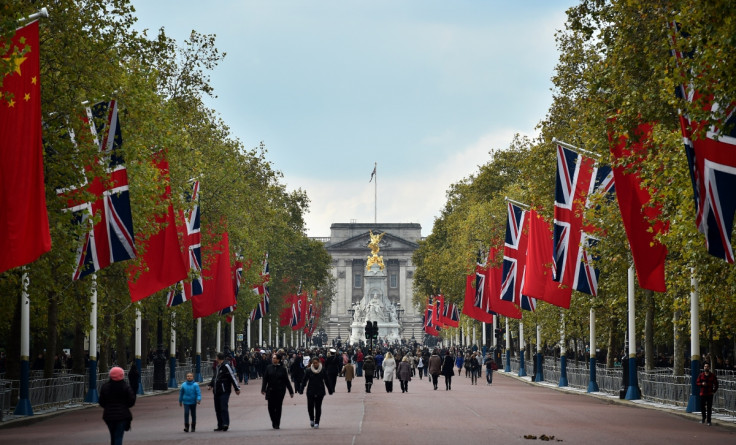 Hundreds of human rights protesters are hoping to upstage President Xi Jinping when the Chinese premier is treated to a royal procession down The Mall on his way to Buckingham Palace on 20 October. The activists will hold a demonstration just yards away from the pomp and circumstance when they gather by the King George VI memorial in St James' Park at 11am BST.
The static protest, which is expected to attract hundreds, is organised by Amnesty International and dissident Chinese groups. The action will come ahead of Xi Jinping's state banquet with the Queen, David Cameron and Jeremy Corbyn.
The Labour leader is expected to raise China's poor human rights record with the Communist Party general secretary in a private meeting, despite warnings from the one-party-state's ambassador that Xi Jinping is not in the UK to debate the issue. "It was never going to be in the banquet and was always going to be in a private meeting. That's still the case," a spokesman for the Labour leader told IBTimes UK.
The move will come after activists held a "stateless lunch" parliament to protest against Xi Jinping's visit. The event was hosted by Labour MP Fabian Hamilton, who also serves as the chair of the All Party Parliamentary Group (APPG) for Tibet, and attended by Human Rights Watch's UK director David Mepham.
'Stateless lunch'
Hamilton told IBTimes UK that Xi Jinping's visit left a "bitter taste" in his mouth, "especially when you know what the Chinese leadership is doing to many of its own people simply for daring to speak out against the regime". He added: "It's quite shocking in a way that we aren't being rather more critical. We should uphold the values of this country, which this country was built upon."
But the UK government has sought to strengthen its ties with China. The Chancellor George Osborne even visited the Shanghai Stock Exchange in September and declared that he wanted to usher in a "golden era" of trade between the two nations.
"Let's stick together and create a golden decade for both of our countries. Britain and China: we'll stick together," he said. "The mutual benefits of connecting our markets are clear – increased access to international capital for Chinese firms, unparalleled investment opportunities for Chinese and international investors, enhanced stability for both markets and efficient allocation of resources – acting as the basis for sustainable economic growth."
Meanwhile, a Metropolitan Police spokeswoman said the force had the "appropriate policing plan" in place ahead of the demonstrations. "We are in dialogue with various protest groups to facilitate their requests," she added.