A series of attacks in north-east Nigeria by the Islamist terror group Boko Haram have left at least 210 civilians dead since Wednesday, according to Borno's state senator Ahmed Zannah.
Zannah claims Boko Haram - the name translates as "western education is sinful" - attacked a Dikwa teacher training college, killing five, kidnapping women and burning down the library before escaping. He claims they then attacked two villages close to Cameroon's border. In Kala Balge they killed around 60; then in other nearby villages he says another 150 were killed:
"It is a must for me to speak since people's lives are involved and they are my people. All these are happening in my constituency and it will be wrong to keep quiet. I feel so much pained and would have not love to speak (sic) but definitely my conscience will not let me do that."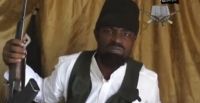 Some reports claim that many of those killed were students travelling from Maiduguri to take part in a Unified Tertiary Matriculation Examination (UTME) in Biu. These claims have yet to be independently verified.
Amnesty International estimates that some 1,500 civilians have died since the start of the year, but also blames Nigeria's army for many of the deaths. Amnesty claims in an incident following a Boko Haram attack last month the Nigerian army killed 600 people in Maiduguri.
According to Amnesty, Boko Haram attacked Giwa barracks in the town in a bid to release their own members who were imprisoned there. Then the army and local "self-defence" group JTF rounded up escapees and shot them on the ground, along with innocent civilians. The organisation claims satellite images have revealed the location of what could be mass graves nearby.
Amnesty's Research and Advocacy Director for Africa Netsanet Belay said: "The scale of atrocities carried out by Boko Haram is truly shocking, creating a climate of fear and insecurity. But this cannot be used to justify the brutality of the response that is clearly being meted out by the Nigerian security forces."
Boko Haram wants to establish a strict Islamic state in the north of the country and is undoubtedly behind several massacres in the area. Nigeria's own relief agency estimates some 250,000 people have had to flee their homes as a result of continued fighting in the region.