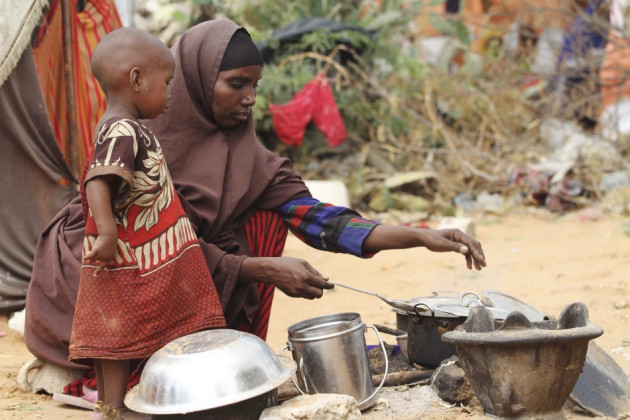 Developing countries have a very slim chance of meeting UN targets to beat child malnutrition by 2015, researchers have warned.
A study in the Lancet journal online claims that poorer countries, mainly those in sub-Saharan Africa, have a less than 5 percent chance of meeting the UN's Millennium Development Goal target.
Researchers at Imperial College London analysed trends in the weight and height of more than 7.7 million children in 141 countries between 1985 and 2011.
Senior author Prof Majid Ezzati, of Imperial's School of Public Health, said the study findings show that "severe challenges lie ahead".
He said: "Our analysis shows that the developing world as a whole has made considerable progress towards reducing child malnutrition but there are still far too many children who don't receive sufficient nutritious foods or who lose nutrients due to repeated sickness."
The UN's Millennium Development Goal aims to hugely reduce the levels of poverty and hunger worldwide. The proportion of underweight children is used as one indicator of progress.
The study estimates that more than 250 million children were classed as mildly to severely underweight in 2011, with 17 countries in Africa and Oceania not showing any measurable improvement.
The study identifies several nations that have seen great advances in reducing hunger levels. Asia and Latin America have performed particularly well. Sixty-one of the countries studied are considered as having more than a 50 percent chance of hitting the targets.
The best improvement in children's height was recorded in China, while Latin America and the Caribbean region also registered significant improvements.
Rather than targeting high-risk children, the study authors suggest that the best way to improve nutrition is to make changes on a national scale.
Ezzati highlighted equitable economic growth and policies that support smallholders as good priorities, alongside primary care and food programmes to help the poor.
"We mustn't allow the global economic crisis and rising food prices to cause inequalities to increase, or cut back on investments in nutrition and healthcare," he said.
Prof Penny Gordon-Larsen, of the Gillings School of Global Public Health, said: "Barring radical change, children in the lowest income countries (especially in the sub-Saharan African and South Asian regions), will continue to bear the enormous social, economic, health and human capital costs of maternal and childhood under-nutrition into the foreseeable future."
She also pointed out the interesting shift that has seen some countries that faced high levels of child hunger now having to fight a rising tide of obesity. She said: "The successful balance between reduction of hunger and curbing of rising obesity is a challenge."