Hurricane Matthew, the most powerful tropical storm in the Atlantic Ocean in nine years, is heading towards Jamaica and Cuba, bringing winds of up to 160mph (260 kph), forecasters have said.
The US National Hurricane Center (NHC) designated it as a Category 5 hurricane, the strongest on the Saffir-Simpson scale, on Friday (30 September).
Jamaican Prime Minister Andrew Holness has called an urgent meeting of parliament members to discuss preparation and arrangements to tackle the violent storm, which is expected to make landfall by Monday.
"The government is on high alert. We hope that the hurricane does not hit us, but if it does hit us, we are trying our very best to ensure that we are in the best possible place," said Robert Morgan, director of communications at the prime minister's office.
He added that local disaster coordinators, police and military have been put on reserve and safe havens are being opened all over the island.
The last hurricane of this scale struck Jamaica 28 years ago. In 1988, the Caribbean island nation was worst hit by Hurricane Gilbert, while in 2012 Hurricane Sandy affected the region.
While, in Cuba, although the skies are clear and blue, locals are keeping track of the weather forecast news closely.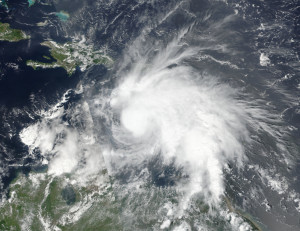 "We don't know yet exactly where it will go, so we're still waiting to see. We Cubans are well prepared," Marieta Gomez, a resident of the eastern coastal city of Santiago de Cuba, said.
It was also reported that the hurricane could also hit the south coast of Haiti on Monday bringing tropical storm circumstances. The country's officials have started preparation to deal with the situation.
"We will prepare with drinking water for the patients, with medication, with generators for electricity, available vehicles to go look for people at their homes," Yves Domercant, the head of the public hospital in Les Cayes in the south, said.