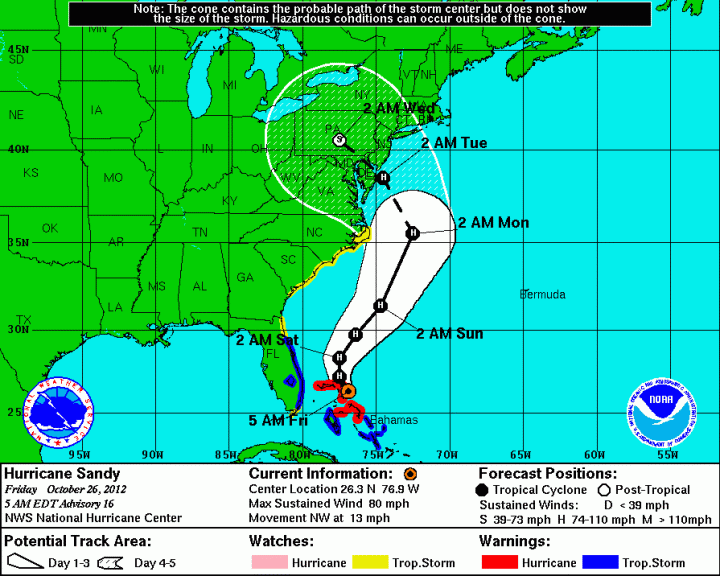 US forecasters claim Hurricane Sandy could become a 'Frankenstorm' if it combines with an inclement winter weather front to engulf America on the eve of Halloween.
Sandy pounded the Bahamas with fast winds and torrential rain overnight, and has killed 21 people during its devastation of the Caribbean.
The hurricane is now heading north, with South Florida already experiencing heavy wind and rain. Forecasters expect Sandy to reach America's east coast next week, with New York, New Jersey and New England in the likely line of impact.
Tom Downs, a forecaster at Weather 2000 Inc, told Business Week that Sandy could merge with an arctic storm heading from Canada, and said "the guys in the government are calling it a 'Frankenstorm', a hybrid of a tropical system and a nor'easter. It is safe to say that there will be millions of dollars in damage."
Downs added that the hybrid storm's impact will be displaced over a wider area than a typical hurricane, and thus "you're not going to experience the massive damage in a concentrated area. Any damage is going to be more widespread but it isn't going to be as catastrophic as a hurricane."
However Scott Stransky, a senior scientist at risk modelling firm AIR Worldwide, told Reuters the impending storm could have an even bigger impact than Hurricane Irene, which ravaged New York and New England and was blamed for 11 deaths during its journey up America's east coast last year.
"If the storm were to make landfall in the U.S., it would be very large, perhaps even larger than Hurricane Irene. If it were to hit the exact same spot that Irene hit ... the damage could be worse than Irene," Stransky said.
In preparation for the storm's impact, utilities forms are cancelling holidays and engaging out-of-state work crews to pre-empt expected power cuts. Meanwhile emergency officials are urging the public to take precautions, while President Obama has been briefed on the situation aboard Air Force One.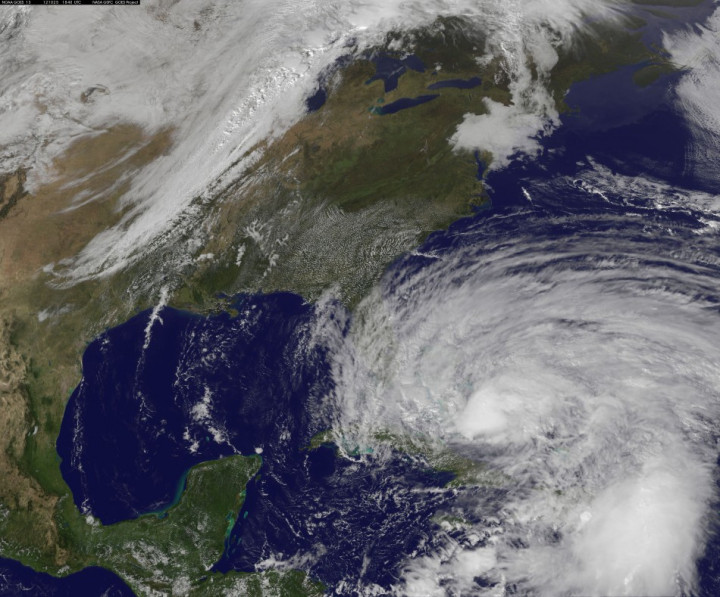 Category one
Sandy has come down to a category one hurricane after it had knocked out power supply in the Bahamas.
Roads were flooded and blocked by uprooted trees, while rooftops were torn off by the heavy winds whipped up by the hurricane.
Despite the damage, no casualties have been reported in the Bahamas so far. However the Cuban government has revealed that 11 people have lost their lives due to Sandy, while nine people were killed in Haiti and one in Jamaica.