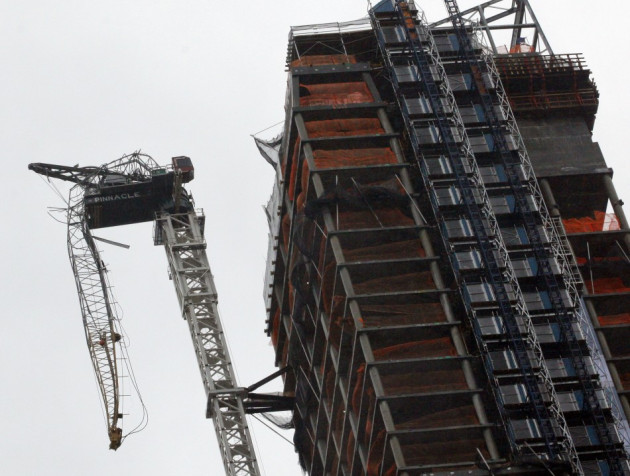 Hurricane Sandy will make landfall around midnight UK time, according to forecasters at America's National Hurricane Center (NHC).
The NHC issued a forecast at around 23.20GMT, predicting that Sandy would reach land within an hour.
Although Sandy has now been downgraded to a post-tropical cyclone, it is still generating winds of up to 90mph and spans a total of 1600km in width - greater than the distance between London and Lisbon.
Up to 60 million people could be affected by Sandy's impact, and one disaster forecasting firm has predicted the economic cost of the storm could reach £12.5bn.
The winds emanating from the storm have already battered large tracts of the eastern seaboard. Atlantic City, the gambling hub made famous by the TV series Boardwalk Empire, has been inundated with several feet of floodwater, and more than 600,000 people have lost electricity in New Jersey, Long Island and Connecticut.
Meanwhile, in New York, the high winds have dislodged the upper section of a crane, which is dangling from a high-rise apartment development in Manhattan.
'Stay in and have a sandwich'
In preparation for the arrival of Sandy, dubbed 'Frankenstorm' by one US meteorologist due to its size and coincidence with Halloween, 375,000 people have been evacuated from New York, and essential services have been suspended.
The iconic New York subway has been closed, while the US stock markets have shut for the first time since the 9/11 attacks. Hundreds of flights to and from America have been cancelled.
Just days before America goes to the polls for its presidential election, Barack Obama interrupted his campaign tour to issue an urgent message to residents of the eastern seaboard, asking them to heed warnings and advice.
"If the public's not following instructions, that makes it more dangerous for people, and it means that we could have fatalities that could have been avoided," the President said in a statement from the White House.
New York mayor Michael Bloomberg, who earlier issued the evacuation orders which forced hundreds of thousands of people to leave their homes, addressed reporters from the Office of Emergency Management Headquarters in Brooklyn.
"It may be a good time to just stay hunkered into your home and have a sandwich out of the fridge and sit back and watch television," Bloomberg said.