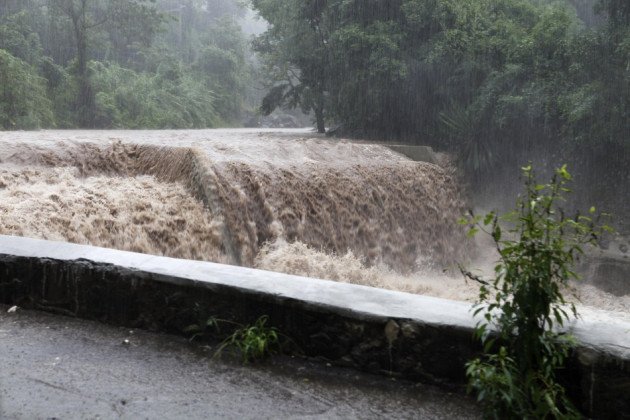 A man has been crushed to death by a falling boulder in Jamaica after Hurricane Sandy made landfall, according to official reports.
The hurricane unleashed heavy rain, accompanied by winds of up to 125 km/h (80 mph). More than 1,000 people have been compelled to take shelter, according to the Office of Disaster Preparedness.
Most of the island remains without power supply, while a curfew is in place in several key areas. It is reported that many crocodiles have been forced from their waterside shelters and into the gardens of nearby houses.
The Miami-based National Hurricane Center says Sandy is currently a category 2 hurricane and could trigger further loss of life, by producing "life-threatening flash floods and mudslides, especially in areas of mountainous terrain." Up to 12 inches (30cm) of rain are expected across the Caribbean.
It is believed that Sandy will now move on to Kingston, before migrating to Cuba, which is now preparing itself for winds of up to 175km/h.
The NHC said that "some additional strengthening [of the hurricane] is possible", adding that "Sandy could become a major hurricane before making landfall along the south-eastern coast of Cuba later this morning."
"It is a big storm and it's going to grow in size after it leaves Cuba," said Michael Brennan of the NHC, adding: "It's too early to tell but there are some signs that have it hooking back towards the mainland as a wintertime 'nor-easter'."