Taylor Swift told the adoring 65,000 fans at Hyde Park she would remember her performance there for the rest of her life.
Judging by their reaction, so too will her fans.
One week after winning over Apple in a battle over royalty payments, at the end of last night's (Saturday, 27 June) two-hour tour de force there was no one left to convince that Swift is the princess of pop.
Opening her 18-song set with 'Welcome to New York', Swift went on an unrelenting string of pitch-perfect pop, leaving fans time to catch their breath when she spoke at length to her 'Swiftys' about love and friendship.
Video tributes from her stable of friends including supermodel-turned-actress Cara Delevingne and Selina Gomez, who fawned over the 25-year-old American, allowed Swift time to make multiple costume changes. There was a green glittered jacket, a diamonte catsuit and a purple number that matched her 12 male dancers for the night's closing song, 'Shake It Off'.
Swift's country roots meant she was as comfortable clutching a guitar and she was strutting the levitating catwalk that stretched out in the sea of fans who waved their illuminating wrist bands - issued on entry - in an unchoreographed melee of amateur pyrotechnics.
The catwalk was again put to good use when Delevigne - waving a Union Jack flag - was joined by a beauty troupe of Kendall Jenner, Martha Hunt, Karlie Kloss, Serena Williams and GiGi Hadid.
Swift now heads to Dublin to continue her '1989' album tour, where, inevitably, she will treat yet many more thousands to a show they will likely remember for the rest of their lives.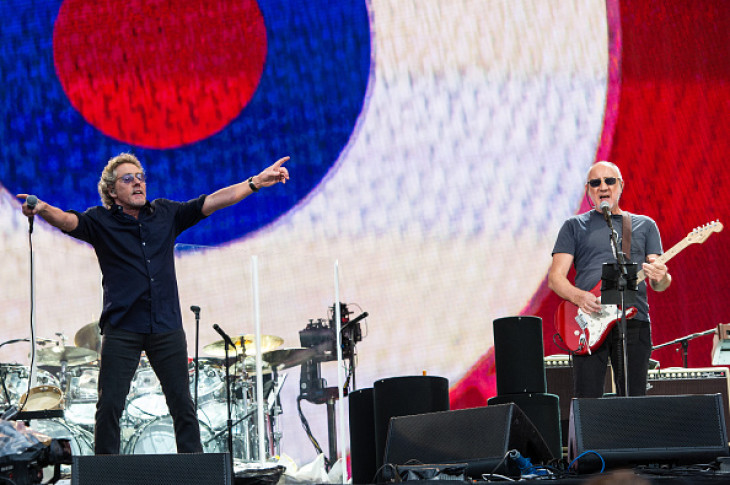 While Swift is on the precipise of global domination, The Who are embarking on the final leg of their loud and distinguished career.
But if Friday's performance was anything to go by the Londoners are still one of the best rock n roll bands in the world: Kanye who?
Their set - a dress rehearsal for their headline slot at Glastonbury on Sunday (28 June) - opened with a dizzying 'I Can't Explain' and as Roger Daltry and Pete Townshend - both of whom are in their eighth decade - warmed to the occasion it became all the more difficult to explain why they were calling it a day after this tour.
Townshend windmilled his way through the band's repertoire and Daltrey - even with a trip to Worthy Farm two days away - shrieked his way through the band's back catalogue. And they were enjoying it, too, with Daltrey - an Arsenal fan - subtly mocking rivals Chelsea.
'Who Are You' featured images of bassist John Entwistle and the wild maverick that was Keith Moon, reminding fans of their enduring legacy and it was Townshend who pointed to that lineage when he said Moon taught current drummer Zac Starkey and gave him his first ever drum kit.
Heavyweight anthem 'My Generation', came before aWoodstock-esquefinale that begun with 'Sparks', 'Pinball Wizard', 'See Me, Feel Me' before rattling performances of 'Baba O' Riley' and 'Won't Get Fooled Again'.
They may have hit 50, but The Who remain as thrilling live as they ever have.