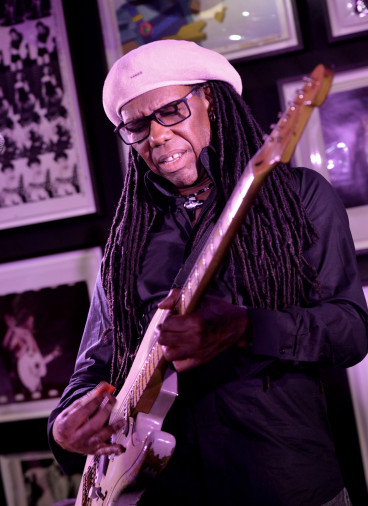 He has recently worked with the likes of Pharrell Williams, Sam Smith, Lady Gaga and Madonna but Nile Rodgers decided to briefly go solo in the early morning of Monday 22 June, when he took to London's South Bank for a spot of incognito busking.
Looking the part in dark sunglasses, a large patterned scarf and woolly hat, the disco legend performed some of his best known hits including Le Freak and Good Times to a modest crowd merely hours after he was entertaining tens of thousands of people at the British Summer Time concert in Hyde Park on 21 June.
The 62-year-old admitted to his inquisitive fans on Twitter who were excitedly tweeting about his experience that not many people recognised him until he started playing Chic songs. "Then it was on," the Everybody Dance hitmaker expressed.
He went on to write on his social media account: "Though I had no voice from screaming during last night's show, I started to draw a crowd when I sang Aw Freak Out!"
Rodgers also revealed to a fan who asked whether he had ever busked before, that that is where he started his career, while adding: "I was homeless." The American musician is set to headline a homeless charity gala later in July.
Complete with his guitar case open for passers-by to drop donations into as he sang, Grammy Award winner Rodgers reportedly earned just £12.30 during his gig. An amount he joked to a Twitter fan would "afford [him] a nice breakfast".
The stunt was set-up to mark the relaunch of Sky Arts as a new super channel and reality show Guitar Star that will set out to find the most talented player of the instrument.
Talking about Rodgers's performance, the director of Sky Arts, Philip Edgar Jones, said: "We're delighted to bring that ethos to life with this impromptu performance. Nile is one of music's living legends and we're thrilled that he's helped capture the spirit of Sky Arts in such a fun and entertaining way."