The heavens had opened, Damon Albarn handed out 99 ice creams and tens of thousands of those in attendance for Blur's triumphant return to Hyde Park sang along to some of Britpop's finest anthems.
The second day of the British Summer Time festival – headlined by Blur – was a typically British affair, with weather to match.
"Thank fuck it's stopped raining," Albarn said, succinctly summing up what every sodden fan was thinking after support act Metronomy bravely battled the elements.
Fans retained their stiff upper lip and a dozen or so were rewarded for their stoicism with 99s when Albarn dashed into the crowd to hand out ice creams.
The kitsch stage design, dwarfed by trees and bedecked with an operational ice cream van for Blur's set, even pointed to British eccentricity.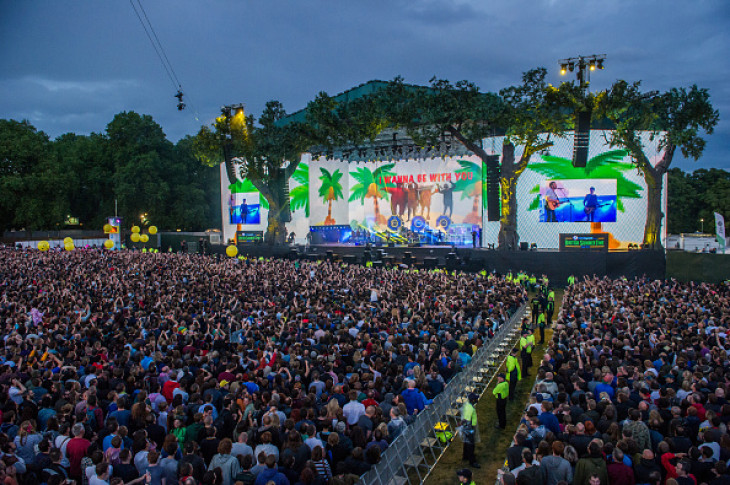 Opening with Go Out, the lead single from new album The Magic Whip, Blur embarked on a marathon two-hour set that incorporated tracks from at least seven albums but only a smattering of nostalgia – this was not a greatest hits parade.
However, it was 1994's Parklife that provided the most memorable sight of the evening, when a maniacal Albarn was chased around the stage by a marauding Phil Daniels, who turned up in person to reprise his role in the song.
Daniels' Cockney cacophony came after a rousing rendition of Tender, an epic that simultaneously stirred and swayed the adoring audience. The band then threw an audio hand grenade into the crowd and fired off Song 2, its violent schism still as powerful as it was on release 18 years ago.
Eighteen whole years. Most of the kids in the front few rows would have been barely out of nappies then but were now throbbing in an impromptu mosh pit with Albarn as the conductor of the chaos.
They ended with The Universal, which they dedicated to a lady named Ethel who was probably at home with a cup of tea. How very British.
More about UK music festivals