An 18-year-old woman from California livestreamed on Instagram the moment her car span into a deadly wreck and the shocking aftermath of her bloodied and dying younger sister.
Obdulia Sanchez was posting a live video on the social media app of herself and two backseat passengers – one of them her 14-year-old sister – while she was driving and singing, only for her vehicle to veer off the road and roll over into a nearby field.
The chilling footage recorded the screams of the passengers as the car span out of control on Highway 165 in Los Banos, California. What followed was more disturbing as Sanchez filmed her younger sister, identified as Jacqueline Sanchez, lying dead next to her.
"I f**king killed my sister, okay? I know I'm going to prison for life," Sanchez said in the recording. She pointed her phone at her sister showing her bloodied state saying: "my sister is f**king dying. Look."
"I killed my sister, but I don't care," ABC30 reported her as saying in the video, followed by desperate pleas of "Jacqueline, please wake up" as she tried to revive her sister who was due to celebrate her Quinceanera just days later.
According to the report, neither backseat passenger were wearing seatbelts and were thrown from the vehicle as it flipped over and Jacqueline suffered a head injury as she was ejected.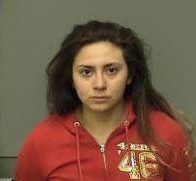 "She was in the back seat of the vehicle and allegedly unseatbelted, and upon the vehicle rolling over, it ejected her and killed her," Sheriff Vern Warnke told ABC30.
Obdulia Sanchez and the other unnamed teen escaped the crash with minor injuries, however Sanchez has been arrested on suspicious of driving under the influence and vehicle manslaughter.
The livestream was recorded by shocked viewer Mary Hernandez who reposted it on social media. "At first we didn't even want to believe it was real," she was quoted as saying. "I recorded it and posted it mainly because as someone who uses Snapchat I see a lot of people driving with their Snapchats doing what she was doing so to me it was like an eye opener." The video was on Facebook following the incident but has since been removed.