I am not sure I know what to say any more. The English language does not contain sufficient words to express my suffering over the past 30 years. As God is my witness, I did not kill Derrick and Duane Moo Young. And I didn't have anything to do with their deaths, way back on 16 October 1986.
I was 47 when I was arrested that evening. I was having dinner with my wife Marita and a few other people. I was in perfect health. But since then the prison system has worked to kill me, one way or another. For 16 years, they wanted to put me in the electric chair.
People I knew on death row would be taken across to the chamber and tortured to death. Marita used to drive up with Jesse Tafero's mother to visit me on Death Row. When they electrocuted Jesse, he caught fire and flames licked around his head. They say he was innocent. His partner Sunny Jacobs was exonerated. She lives in Ireland now.
But failing the electric chair, they have been trying to kill me in other ways. When I slipped outside the shower, my arm broke because I was in shackles and I could not break my fall. They did not believe me until the arm became gangrenous. If a decent sergeant had not backed me up, I would have lost the arm, or died. The surgeon, Dr Cynthia Harding, said to the prison doctor "you wouldn't treat an animal the way you treat Maharaj".
I was 77 in January, and I am in a wheelchair most of the time now. I promised my lawyer I'd be the best damned wheelchair man in the prison. When I am out in the yard, it's either too hot, or there's a hurricane, but I need to try to keep fit so I can get out of here.
I was once so fortunate. I was a millionaire. Then I could help people, and look after Marita. And now I can do nothing.
This has been a living hell for thirty years. My lawyer got me resentenced to life in 2002, but that is just the death penalty exacted more slowly. The parole board said that if I behaved well I might be set free in 2042. I've not had a disciplinary report in 30 years, and the four sergeants who testified at my resentencing hearing said if the prison was full of Maharajs they would not need to use keys. But by 2042 I will be 103 – in other words, I will be dead.
And I will have died without being back with my beloved Marita. She is the real heroine of this tragedy. Who could imagine a wife so loving and loyal that she would stick by me for thirty long years? For me, that is by far the worst mental torture: that she is forced to stay here, far away from home and our friends in England, and yet I cannot be there and cannot support her. It is dreadful.
I wondered whether I should just give up and die.
I was once so fortunate. I was a millionaire. I had Rolls Royces. I had racehorses. I did nothing to deserve that – everything I had I was given by God. But then I could help people, and look after Marita. And now I can do nothing. It might be strange to people who are not in prison, but I find it humiliating to be so powerless to help myself or her.
I knew nothing of prison thirty years ago. My friend Lord Learie Constantine once asked me to donate to Nelson Mandela's campaign and that was about as close as I got. I have always had a high regard for the British legal system, since I sued the Lord Cockfield over the unfair import licencing system. He said I was an insignificant little man, but I spent £180,000 in legal fees and in 1983 Justice Hodgeson ruled in my favour. They had to let me import a hundred times as much as before.
Originally, I expected the same kind of justice in America. But there has been corruption of unspeakable magnitude in my case. I did not know it in 1986, but my lawyer has now proven that the murders were committed by Pablo Escobar and the Colombian drug cartel. In November 2014, some of the drug conspirators came to court and admitted that the cartel did it. I don't know if there has been a more crushing moment than when the judge denied me a retrial after that – on 9 January 2015.
I try not to think about it, but I wondered whether I should just give up and die then, and set Marita free. I did ask my lawyer to promise that he would look after Marita back in England, after I was gone. She is not well either, and it breaks my heart to see it.
But now I ask God daily in my prayers to continue to guide my lawyer Clive and Reprieve in order to obtain my vindication. I have to survive. I have to have the world know that I did not do this crime.
Who is Kris Maharaj?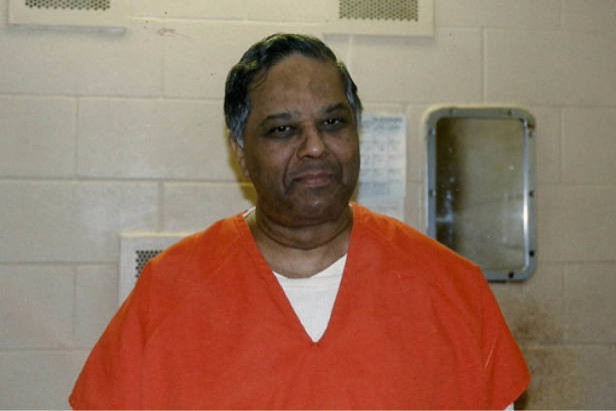 Kris, a British citizen born in Trinidad, was living in Florida when father and son Derrick and Duane Moo Young were gunned down in a Miami hotel in October 1986. Kris had six alibi witnesses, who each confirmed that he was 30 miles away at the time, yet none of them were asked to testify at his trial and his lawyer presented no defence whatsoever.
On the third day of the trial, the judge was led away in handcuffs for taking bribes in another case. The second judge conspired with the prosecution to draw up the execution order before the sentencing hearing had even begun.
That's why, in 2002, Clive Stafford Smith (who has represented Kris for more than 20 years) was able to have Kris's death sentence quashed. But it was a bittersweet victory – Kris was resentenced to life imprisonment, and he isn't eligible for parole until he is 101 years old.
After years of investigation, Clive discovered that the Moo Youngs were involved in laundering billions of dollars for Colombian drug baron Pablo Escobar, and that the murders were actually carried out by the cartels after Derrick and Duane lost or stole some of the money that they were laundering.
---
This article was written up by Kris Maharaj's lawyer, Clive Stafford Smith. Due to the recent hurricane, visits were curtailed to the prison in Miami where Kris Maharaj is held, so he dictated what he wanted to say over the telephone.
---