Shandra Woworuntu was weeks away from turning 25 when she boarded a plane from Indonesia to the US to work in a hotel in Chicago. She planned to stay for just six months, and return to her home city of Manado with enough money to put her daughter - then 3-years-old - through university. But the day she arrived Woworuntu was forced to have sex with a stranger at gunpoint. In the following days, her name was changed to "Candy", and she was plied with drugs and alcohol to keep her weak and vulnerable. As a victim of sex trafficking, the land of opportunity quickly turned into an unimaginable hell for her within hours of arriving.
Graduating from university with a degree in Finance and Bank Management, Woworuntu had never originally planned to travel to the US or pursue an American Dream - although she knew what that meant. She imagined she would meet movie stars when she moved to Chicago, and saw the States as a "the dreamland for everyone", she tells IBTimes UK.
At the age of 24, she was a manager of the Treasury Department of the Korea Exchange Bank, specialising in market trading, and had a sparkling career ahead of her. Then in 1997 the Indonesian economy collapsed. She lost her job and her savings became worthless. Having previously separated from her husband, when he died of lung cancer their young daughter's situation became even more precarious. An advert in a newspaper that Woworuntu spotted for a hospitality job paying $5,000 a month in Chicago offered a steep pay rise from her usual $250 a month. Desperate to secure her child's future, she left her with her mother in Indonesia, and paid an agency $3,000 to accept the job.
When the wheels of the plane hit the tarmac at New York's JFK airport late in the first week of June 2001, she felt apprehensive but hopeful. "I was happy because I thought it was a good start for me. After a few months I'd go back home and have savings for my daughter's college fund," she says.
"At the airport I saw a man calling my name," she recalls. "They were holding my picture and a copy of my passport copy, so I believed he would pick me up and take me to Chicago. I trusted him and I felt safe and secure." Another five people joined her, and they were split into two groups. The man directed her and two teenage girls towards a car and explained that as it was late in the evening, he would take them to a hotel and they would start their 12-hour drive to Chicago the next day. Shortly after, he stopped at a building and told them to get into another car, handed the driver money, and was gone. This happened three more times.
The fourth stop was a house where she and the girls were told to get out. There, a man took her luggage, leaving her with the clothes on her back and a small pocketbook. What Woworuntu saw next set alarm bells off in her mind - but, unbeknown to her, it was already too late to escape.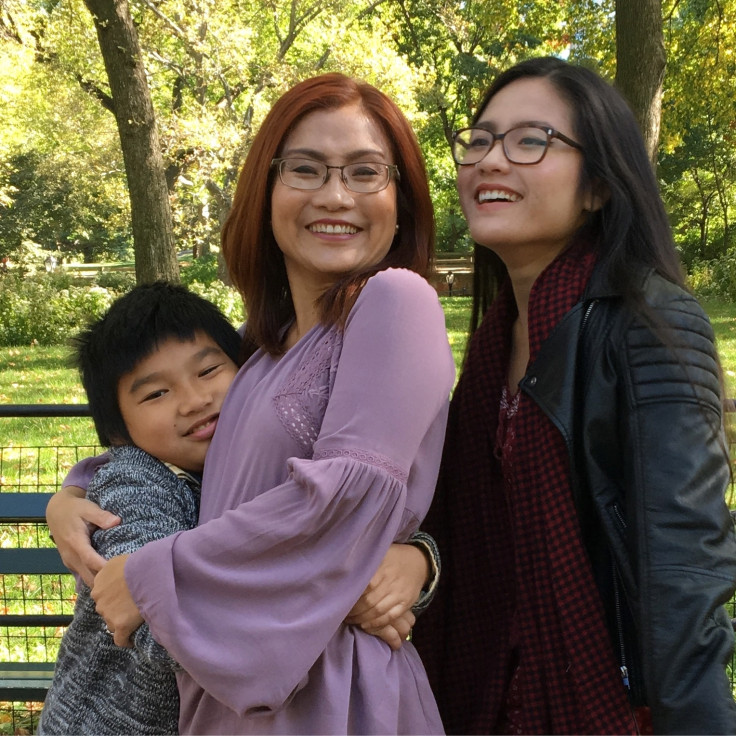 "I was taken to the top floor of the house. I saw many condoms on the floor - used condoms and new ones a bedside table by the bed. And I said 'what kind of place is this?!' I had never seen a place like that. I said to the girls who came with me 'wow this house is so filthy'."
A man then entered the room and demanded that she and the girls remove their clothes so he could check their skin. When Woworuntu refused he pointed a gun at her head.
She was then bundled into a car, and driven to a location ten minutes away in the Flushing area of Queens, New York. "He opened the car door and pulled me out with a gun to my head. He rang the doorbell. When a woman opened the door he shouted 'mamasan, this is a new girl'.'"
I was taken to a room in a house with used condoms on the floor. I said 'what kind of place is this?!'
"I knew that mamasan was the name of a woman who runs a brothel so I just freaked out. He told me to be quiet and start working. I was confused. I thought what is the job in this place?!"
Woworuntu heard muffled screaming from one of the rooms. A door swung open. A young girl was curled up on the floor, with a man standing over her.
"There was a girl, maybe 15-years-old, who was being beaten by a man. Her face was bleeding, and I was scared."
Another man then threateningly swung a baseball bat near Woworuntu.
"At that moment I followed instructions because I knew I could die. I knew I had to think of my daughter and I had to stay safe."
That night, she was forced to have sex with a stranger for the first time. When a man called Johnny Wong appeared and sweetly apologised for the apparent mistake, she clung onto the hope that she had been mixed up with another woman and there was still a chance that she would be taken to Chicago. When they pulled up to a store to buy uniforms for her new job the next day, she realised it was a lingerie store. She felt humiliated.
The next few months were a blur. Her captors told Woworuntu she owed them $30,000 and that every man she served would knock $100 off that sum. Emotions numb in order to survive, she was taken to different apartments, casinos and hotels and forced to have sex with clients and captors. Through the barrel of a gun, she took drugs that ensured she was awake, but weak and unable to fight. Her meals consisted of boiled rice, pickles, and whisky and beer - never water.
Speaking on the phone, Woworuntu only refers to her ordeal as her "situation", her voice cracking with emotion as she recalls the events of 16 years ago.
Woworuntu's case is startlingly common. Across the world, there are believed to be 21million victims of human trafficking - be that forced labour or prostitution - with 200,000 victims of human trafficking in the US. 17,500 of those are from foreign countries, mainly China, Mexico and Russia. The International Labour Organisation estimates that the modern slave trade is a $150bn industry, and the third most profitable form of organised crime alongside arms and drugs.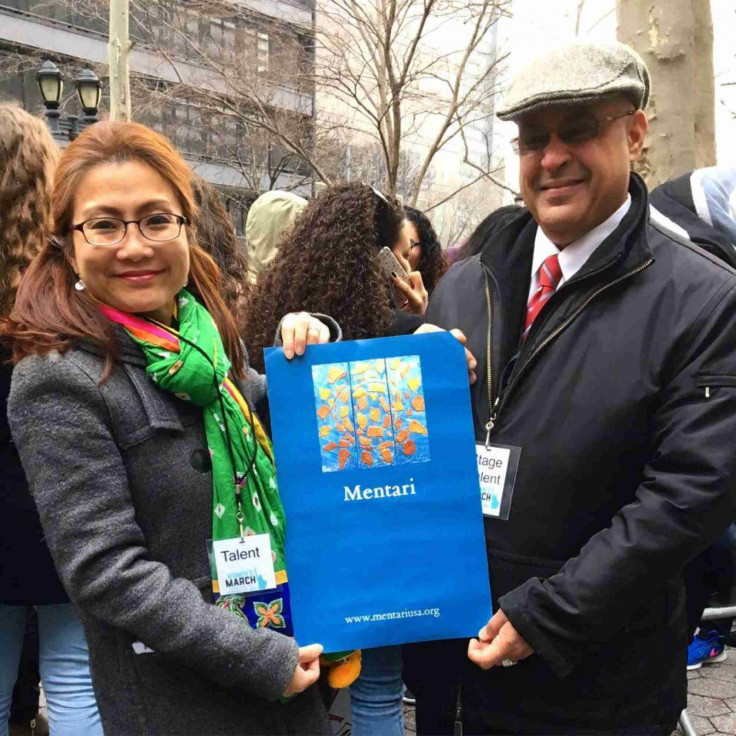 Woworuntu eventually managed to use a spoon to unscrew a second storey window - and that ingenuity secured her freedom. "I escaped when the weather was very cold. I remember holiday lights everywhere," she recalls.
With a few dollars she had stored away in her purse, she called a number on a folded piece of paper that another woman had told her to contact if she was ever free. The man who answered bought her clothes, fed her, and put her up in a hotel room. But when he burst into the room and tried to grope her and demanded she see a client, he called Johnny Wong on the phone. He was simply another member of the gang. Woworuntu seized the chance to flee once more, and ran from the hotel.
Yet, when she approached the authorities, they dismissed her story. Returning to her traffickers an option worse than death, Woworuntu had no choice but to sleep in the park or on the subway in Manhattan, and eat from rubbish bins. Luckily, a man in a Navy uniform approached her and urged the police to contact the FBI. Johnny Wong and his gang were later arrested
With the aid of an organisation called Safe Horizon, she secured a job and was eventually granted a T Visa - for victims of human trafficking - and was able to bring her daughter and mother to NYC.
Deeply disappointed by how she was treated by the authorities when she escaped, Woworuntu has since devoted her life to helping other victims of modern slavery.
On 1 November, L'Oréal Paris announced Woworuntu as one of its 2017 Women of Worth Honorees, alongside 10 others across the US who have committed their lives to bettering their communities and fostering positive change. The accolade recognises Woworuntu's work since she fled her captors. Her activism has seen her testify before the Senate Foreign Relations committee on Ending Slavery, serve on the US Advisory Council on human trafficking, and help to bring about changes in the law to protect others from similar ordeals. In 2014, she founded Mentari: a charity which helps victims of modern slavery find jobs.
"I struggled to leave because there wasn't enough help and resource to move forward...so I learned that I need to help people," she says humbly.
Woworuntu stresses that while she is grateful for the recognition, awards are meaningless to her, her voice trembling with force as she speaks.
"I don't like awards," she says. "Honestly, because I don't do this for publicity. I get emotional when I talk about this."
"Prevention is the best way to reduce the number of victims of human trafficking and modern slavery, because we can't take people back to their lives before." Starting from education in schools, the public needs to be made aware of what modern slavery is, she says. Businesses also have a role in ensuring their supply chains are free from forced labour and exploitation. Officials must also take steps to ensure that rules are strictly enforced - something that the UK police force was recently criticised for after it was revealed that victims were sent back to their captors.
"This award isn't for me but for the people who work with me, but mostly for the people that have successfully joined our program and live independently. I appreciate the award - but the works still needs to be done."