The Royal Bank of Scotland has teetered on the brink of collapse twice over the last two decades and the problems stem from former chief executive George Mathewson, according to renowned business journalist Ian Fraser.
Speaking to IBTimes TV, Fraser told us how Mathewson "sowed the seeds of destruction" for RBS when he handed over control to Fred Goodwin in 2000, because of the policies and managerial mindset that had already taken root at the bank, even though Mathewson had rescued it from virtual bankruptcy in 1992.
Speaking about Goodwin, Fraser said one of the controversial former boss's biggest errors "was to pursue scale, for its own sake, he was desperate to protect the bank from takeover and he believed that the best way to do that was to grow the balance sheet, through acquisitions and organic growth. But this became an obsession with him and his management team.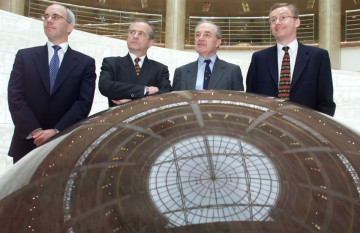 "He also ruled, with what it's been called, a reign of terror. His immediate managers were scared of him, scared of missing targets.
"What tended to happen is that they would be set very stretching targets and in order to achieve those, corners were cut."
Fraser has been a journalist for over 25 years, including seven years at the Sunday Herald in Glasgow. He has also taught at the University of Stirling and has made six documentaries with the BBC, including RBS; the bank that ran out of money.
Speaking to IBTimes TV about his latest book, Shredded: Inside RBS – The Bank that Broke Britain, Fraser also didn't pull any punches when it came to his thoughts on the management and culture at RBS under Stephen Hester, and now, Ross McEwan.
To see the full interview, click on the video below.