Paedophile rocker Ian Watkins is in for a shock when he starts his new life inside HMP Wakefield, one of Britain's toughest prisons, also known as "Monster Mansion".
Of course he will have be used to adoring fans and staying in lavish hotels as frontman for Lostprophets rock band. But that party is well and truly over.
Watkins, 36, faces at least 29 years behind bars for a string of child sex crimes, the depravity of which "broke new ground," according to the judge at his trial.
Once inside HMP Wakefield Watkins will have to be on high alert whenever he is not locked away from other inmates.
The maximum security prison in Yorkshire is dubbed "Monster Mansion" for good reason. It houses some of the Britain's worst criminals – category A and B inmates. Behind bars, child sex offenders are the considered the lowest of the low. And Watkins' celebrity is likely to be a burden and make it impossible for him to keep a low profile.
There are around 740 inmates currently locked up inside Wakefield who have committed some awful crimes. So in this respect Watkins is in suitable company.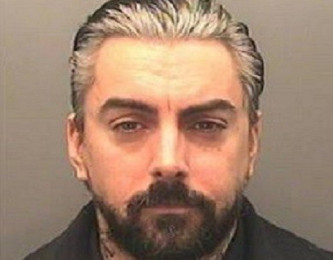 For example, he will be sharing a roof with baby killer Steven Barker – who murdered Peter Connelly, aka Baby P. Also confined there is Mark Bridger, who killed April Bridger in Wales and disposed of her body.
The treatment Bridger received inside is a grisly reminder of how vulnerable some inmate in Wakefield are to attack. The 46–year-old has been left with a deep scar running down the length of his face after a fellow inmate slashed him with an improvised blade. Though Watkins has not killed anybody like Bridger did, he shares the same sort of public notoriety.
A 2009 report by prison inspectors found Monster Mansion was safe – "in general."
Former inmates include Charles Bronson, who was sent to Wakefield in a bid to quell his disruptive behaviour.
It seems unlikely that Watkins will be able to rely on any wealth he might have amassed to ease his time in jail. Not only have his prospects of earning royalties been slashed now that Lostprophets' songs have been filed next to Gary Glitter's back catalogue, but gifts of cash sent to prisoners in Wakefield prison have habit of "going missing." A government report found cash sent to the prison for purchases such as tobacco, "can get 'lost' in the prison."
Many of the inmates of Monster Mansion also fervently deny they are guilty of the offences which landed them in there. This poses a problem for staff trying to help offenders rehabilitate. It seems to be a trait shared by Watkins. During his trial it emerged he was also in denial about his crimes, describing them as "mega lolz" to a woman during a phone call while he was behind bars. Difficulties in getting inmates to admit their crimes was a "most pressing problem," stated the 2009 report.
It said: "The presence of so many prisoners in denial simply reinforced entrenched attitudes among those who refused to admit, or engage with, their offences... Many prisoners felt, with some reason, that they were permanently marooned in Wakefield."
This is a feeling which should be dawning in Watkins' depraved mind around this time, as he hunkers down for three decades inside Monster Mansion.