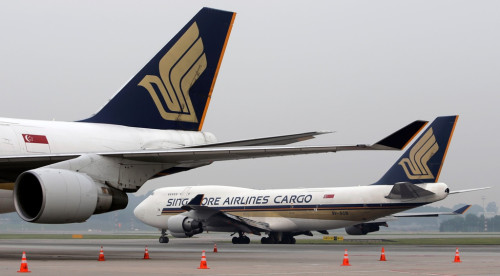 Weakness in air freight movements remains the biggest worry for airlines despite evidence of a revival in 2013, according to Tony Tyler, head of the International Air Transport Association (IATA).
Air freight movements are seen as a gauge of economic health. About 35% of world trade by value goes by air, according to IATA, and Asia-Pacific carriers command about 40% of the global air freight market.
Asia is witnessing robust demand for passenger jets, which in turn creates excess capacity for freight in the spacious cargo holds of large jets.
That in turn has put pressure on the market for dedicated cargo aircraft such as Boeing's recently introduced 747-8.
Southeast Asia, home to Malaysia's AirAsia and Indonesia's Lion Air, is driving a growth in orders for Airbus and Boeing aircraft.
While concerns are mounting about an overcapacity in some markets, the prospects for passenger growth remain bullish in Asia, according to IATA.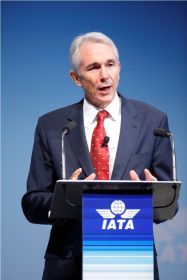 "The biggest worry for the airlines industry right now is probably cargo. Air cargo continues to be weak and for the big airlines in this region (Asia), it is a very important component of their revenue," the IATA chief said on Sunday ahead of the Singapore Airshow.
"Latest numbers in cargo show that although globally cargo improved a bit, it didn't really improve in this region (Asia). It's usually been very strong in this region," Tyler added.
"You've got some economies growing very fast. You've got some very supportive demographics. You've got liberalisation taking place in the region," IATA's chief economist Brian Pearce told Reuters TV.
"I think all of those add up to a very good medium term outlook. Obviously in the short term with some of the foreign exchange turmoil, some of the risks facing those economies with large current account deficits there may be some hiccups.
"We've seen some pressure on utilisation and load factors because of those aircraft deliveries through the last 12 months. I think we are starting to move into an improving position," Pearce added.
Last week, Singapore Airlines said air freight demand is expected to be relatively flat and cargo yields are likely to remain under pressure as the cargo business still faces overcapacity. Cathay Pacific has also been impacted by a weakness in the freight markets.
In December 2013, IATA raised its 2013 and 2014 forecasts for global airline profits owing to lower aviation fuel costs and better efficiency.
Led by the Middle East, air cargo traffic grew 1.8% the world over in December 2013 when compared to the same month of 2012, but fell 1.1% in Asia, according to IATA.