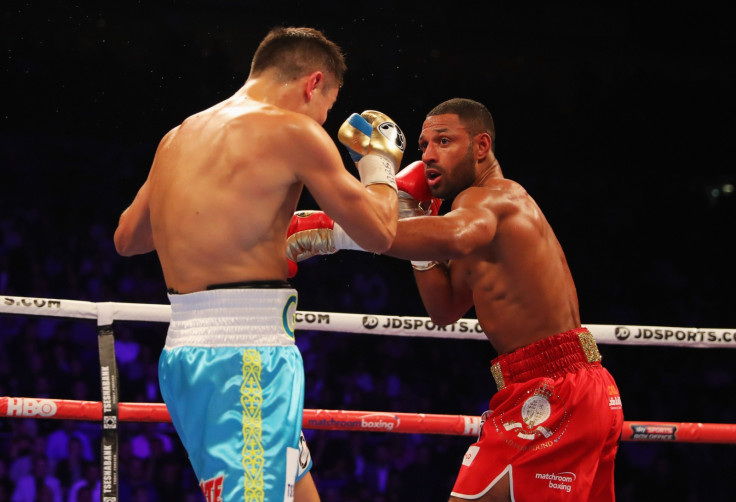 IBF welterweight champion Kell Brook is desperate to fight Manny Pacquiao, according to promoter Eddie Hearn. The Matchroom chief said Brook is making a good recovery from the eye injury he suffered against Gennady Golovkin in September and confirmed he intends to continue his career in the welterweight division.
The Sheffield-born star climbed two weight divisions for his money-spinning fight against Golovkin, which ended in a fifth round defeat. But Brook plans to go back down to welterweight to defend his crown and is eyeing a fight against Pacquiao, who recently came out of retirement to defeat Jessie Vargas and has talked up a mega-money rematch against Floyd Mayweather.
"I went to spend a day with Kell Brook this week and am pleased to report he is back in training after a minor operation and planning his return," Hearn wrote in the Daily Mail. "He is getting the weight back down in a very controlled manner after going to middleweight to face Gennady Golovkin and it is all going smoothly.
"I thought at times that his next move might be to light-middleweight but he has been quite firm that after spending so much effort winning the IBF welterweight belt that he will not let it go without a fight.
"He would love a unification fight with Manny Pacquiao, who holds the WBO belt. I have reached out to Bob Arum at Top Rank and they know we are keen. He knows we are here and that it would make a great fight."
Hearn revealed Brook is also interested in facing Errol Spence, who is without a loss after 21 fights. "Another mouth-watering option is Errol Spence, the brilliant unbeaten American. I want to get Kell out again in March so watch this space," the Matchroom promoter shared.
Brook, on the other hand, recently urged his long-time rival Amir Khan to "stop talking" and fight him. Brook has been chasing a fight against Khan for years and he has nicknamed the former Olympian "Amir Khandashian" in reference to the reality TV family.
"With got some big names, Amir Khandashian, he's still there," Brook told Sky Sports. "People are talking about us fighting, he's said he wants to have that fight and like I have said, I'll meet him at welterweight if he actually wants to get in and stop talking about it. We need to sit down, get it signed and get it done for the fans."