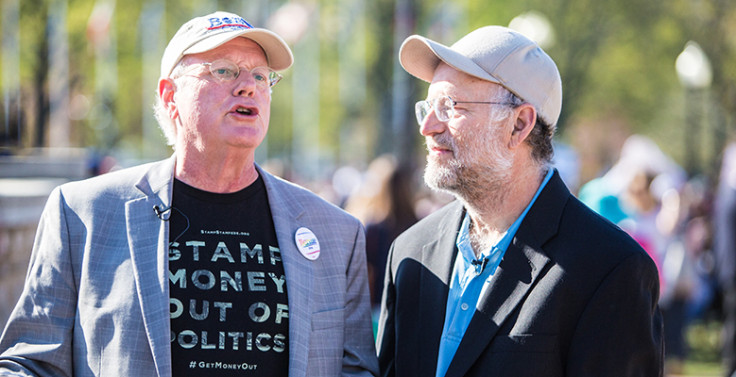 Ben & Jerry's ice cream's co-founders Jerry Greenfield and Ben Cohen have been arrested in Washington after joining in a pro-democracy protest. The pair, and hundreds of other activists, were arrested at Capitol Hill on the Democracy Awakening direct action on 18 April, on misdemeanour charges for "crowding, obstructing, or incommoding" at the demonstration.
The ice cream giants are both politically active and have previously been outspoken on issues such as gay marriage – changing the name of one of their ice-cream flavours to 'I dough, I dough' to celebrate the Supreme Court recognising same sex unions. An ice-cream supporting Bernie Sanders, a small batch of which was released in January, also left voters in the US with little doubts about who the pair were backing in the upcoming election.
Ahead of the protest, and their subsequent arrest, Cohen said in a statement carried by the company's website: "The history of our country is that nothing happens until people start putting their bodies on the line and risk getting arrested."
Their website said: "It all comes down to a simple idea that we believe in whole-heartedly: if you care about something, you have to be willing to risk it all — your reputation, your values, your business — for the greater good."
More than 1,000 people have been arrested over three days of protests in Washington, with demonstrators denouncing the influence of business in politics and 'undemocratic' measures such as voter ID laws. The Democracy Awakening gathering, which was reported to be largely peaceful, followed the Democracy Spring protests in Philadelphia last week.
The actions have seen people take to the streets in their hundreds, no doubt infuriating some politicians in the middle of campaigns ahead of the November US presidential election.