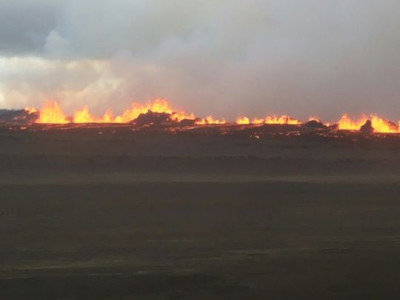 A fresh eruption near Iceland's Bardarbunga volcano has prompted local authorities to raise the aviation warning code.
Iceland's meteorological agency said that an early-morning eruption came from a small fissure in the Holuhraun lava field, about 5km (three miles) north of the Dyngjujoekull glacier.
"It appears that the eruptive fissure is longer than in the last eruption," the Icelandic Met Office said. "It is extending north and south on the same fissure. The eruption is a very calm lava eruption and can hardly be seen on seismometers.
"Visual observation confirms it is calm, but continuous."
As a consequence of the aviation warning, planes will be banned from flying in the area surrounding the volcano, which is located almost in the middle of the island state. However, all airports remained open.
The eruption was the third reported in the area since 23 August.
Local authorities have been on high alert since a number of small earthquakes have hit the country this month.
The volcanic activity has raised concerns that an eruption could cause similar aviation chaos as when Iceland's Eyjafjallajökull volcano erupted in 2010.
Thousands of flights were cancelled when aviation officials closed Europe's air space for five days, fearing that volcanic ash could harm jet engines.