Iceland's Bardarbunga Volcano: Eruption Sparks Red Alert and Closes Airspace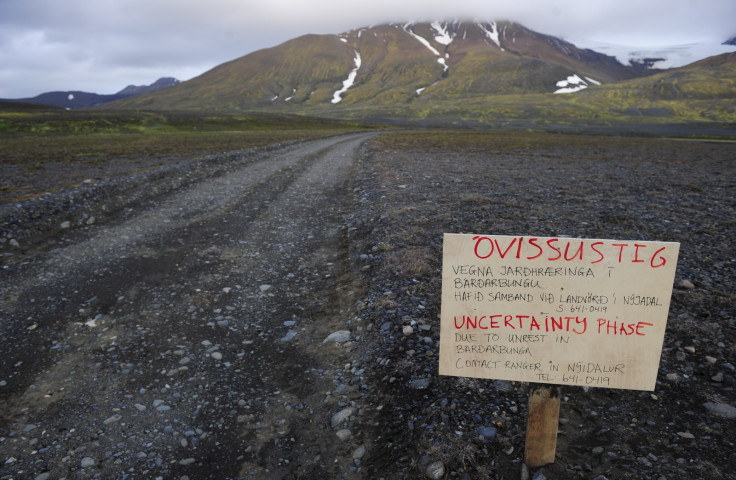 A small eruption has occurred north of the Bardarbunga volcano in Iceland, prompting the Meteorological Office to raise its aviation warning code to red, the highest level.
After nearly two weeks of rumblings and earthquakes, scientists said a fissure around 1km long has begun in a lava field near the Vatnajokull glacier.
A statement from the Department of Civil Protection said the fissure eruption took place between Dyngjujokull Glacier and the Askja caldera, part of the Barbarbunga system.
No volcano ash has yet been detected, authorities told BBC News.
Civil protection officials told Reuters that Icelandic Air Traffic Control had closed the airspace above the eruption up to a height of 5,000ft.
"The Icelandic Met Office has raised the aviation colour code over the eruption site to red," Iceland's National Crisis Coordination Centre said.
"No volcanic ash has been detected with the radar system at the moment... Seismic eruption tremor is low indicating effusive eruption without significant explosive activity."
The red warning indicates that an eruption is imminent or under way, with a risk of ash. Until now, the Met Office has kept its aviation warning level at orange, its second-highest.
In 2010, an ash cloud from the Eyjafjallajokull volcano closed much of Europe's airspace for six days.
Iceland's largest volcano system, located underneath the Vatnajokull ice cap in the central region of the island, was struck by a 5.7 earthquake on Tuesday, the largest tremor since seismic activity started.
The eruption just after midnight GMT took place in a lava field not covered by ice. Much of the volcano system is covered by a thick layer of glacier and the risk of an ash cloud is most likely in the event of a sub-glacial eruption.
Icelandic Met Office spokesperson Kristin Gudmundsdottir said activity at the fissure seemed to be unchanged in the morning hours after decreasing two hours after the eruption started.
Rebecca Williams, a volcanologist at the University of Hull, told IBTimes UK that the "no fly" rules over ash in volcanic eruptions had changed and may not lead to widespread disruption.
"We understand the effects of ash on planes a lot better now. So if an eruption occurs, it may well disrupt some air travel, but only the biggest eruptions would lead to the air space closures seen in 2010," she said.
© Copyright IBTimes 2023. All rights reserved.