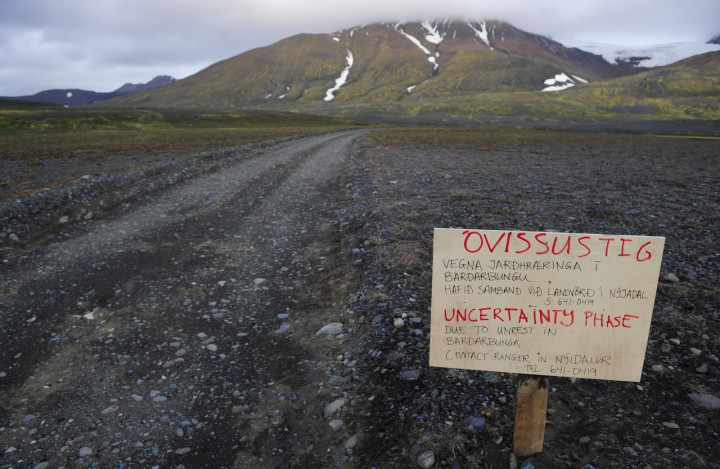 Iceland's Bardarbunga volcano was struck by a magnitude 5.7 earthquake overnight – the largest tremor since seismic activity started 10 days ago, according to the country's Meteorological Office.
There is still no sign of eruption in Iceland's largest volcano system, amid fears that one could create a similar ash cloud to that of the Eyjafjallajökull volcano in 2010, which shut down much of Europe's airspace for six days.
Rebecca Williams, a volcanologist at the University of Hull, told IBTimes UK that at present the Bardarbunga volcano has a 50/50 chance of erupting. In the last week, it has shown signs of increased seismic activity, with officials saying there is a risk of "explosive subglacial eruption".
"There was one event during the night… it was a magnitude 5.7 quake, the largest in this series," Palni Erlendsson, a geologist at Iceland's Met Office told Reuters.
"Activity is still deep and we see no signs of anything close to the surface."
On Sunday, Iceland downgraded the warning for possible volcanic disruption to the aviation industry from red to orange.
A red alert indicates an eruption is imminent or underway, with a significant emission of ash likely.
Lava under ice
Iceland Met Office scientists believe the earthquakes are due to magma flowing from under the volcano's crater, causing a change in pressure.
According to experts, the migration of magma – estimated at around 300 million cubic meters (10.6 billion cubic feet) – along a 21-mile dyke, could stop and lead to a gradual reduction in seismic activity.
However, the magma could also reach the surface away from the glacier, which would likely lead to an eruption with limited explosive, ash-producing activity.
If the magma reaches the surface underneath the glacier, it would lead to flooding and possibly an explosive eruption and ash production, the Met Office added. An eruption inside the Bardarbunga caldera is also possible, but scientists say this is the least likely of the possible scenarios.
"We still can't say whether it will cease, continue like this for a while or erupt. It's impossible to say," Erlendsson said.
There have been thousands of smaller quakes over the past seven days at Bardarbunga. Areas around the volcano, in the center of the North Atlantic island nation, have been evacuated.