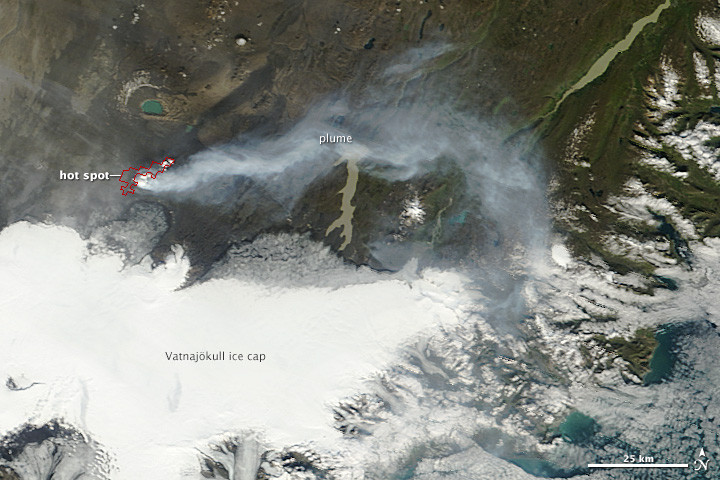 Nasa's Terra satellite has taken unique images of the two new fissures in Iceland's largest volcanic system.
The eruption occurred on 5 September, just over a mile north of Dyngjujokull glacier, causing magma to rise through cracks in the ground in a depression called a rift valley.
The Terra satellite's Moderate-Resolution Imaging Spectroradiometer (MODIS) instrument captured the eruption at 12:50 pm local time.
Terra was launched in December 1999 and is the Earth Observing System's flagship satellite, collecting data about our planet's changing climate. The satellite carries five state-of-the-art sensors that have been collecting information about Earth's atmosphere, radiant energy, lands and oceans.
Iceland's Civil Protection Agency has restricted travel near the glacier for fear of flooding, triggered by the heat from the eruption melting the Dyngjujokull glacier.
The melting of the ice could also cause major explosions, and an inspection flight last week revealed a half-mile-wide indentation in the surface of the glacier.
According to Live Science, this would signal "melting from geothermal activity or a small subglacial eruption" - and if the new lava flow reaches the glacier, it could trigger an explosive eruption of ash.
The Icelandic Meteorological Office last week said earthquakes in the area are appeared to be becoming more frequent, and Bardarbunga has been hit by thousands of earthquakes over the last two weeks.
The Bardarbunga caldera was hit by a 5.5 magnitude tremor on 3 September, one of the largest since the seismic activity started.
"The eruption is still going on at the same pace as before," Einar Heinarsson, a spokesman at Iceland's department of civil protection, told Reuters. "It has been continuous."
Local authorities continue to report that there is no volcanic ash. As of Sunday, the aviation warning level remained at orange, the second-highest on the scale.
An Icelandair pilot took an extra circle around Bardarbunga to give passengers an incredible view of the eruption.