The spokeswoman for the Russian foreign ministry has come under fire for saying that to explain the victory of Donald Trump, "you have to talk to the Jews".
Maria Zakharova was appearing on a Russian talk show and was asked about the reasons behind Trump's US presidential election win.
Recalling a visit to New York in September, she told the host Vladimir Solovyev on his Channel 1 programme: "If you want to know what will happen in America, who do you have to talk to?
"You have to talk with the Jews, of course, it goes without saying," she said, in comments that were met with applause from the audience.
She then went on to speak in a Jewish accent, saying: "They told me, 'Marochka [A Russian familiar term for Maria] you understand, of course we will give to Clinton, but we will give twice as much to the Republicans.' That's it! End of story.
"Because, if you want to know what will happen, don't read the mainstream newspapers. Our people in Brighton will tell you everything," she said, referring to Brighton Beach in Brooklyn which has a large Russian-speaking Jewish community.
The Israeli foreign ministry declined to comment on her remarks, as did the Russian foreign affairs ministry, the Russian-language Israeli site Newsru.Co.Il reported.
But Russian opposition activist Roman Dobrokhotov said that Zakharova had "explained Trump's victory as a Jewish conspiracy", Radio Free Europe reported.
The news outlet said although the programme was broadcast on Sunday 13 November, her remarks got wider attention after being picked up by Ukrainian and Russian-language Israeli websites on 17 November.
The former US ambassador to Moscow, Michael McFaul, who has been added to the Kremlin's sanctions list, said in a Facebook post: "Wow. And this is the woman who criticises me for not being diplomatic."
Journalist Vladimir Varfolomeyev, who is an opponent of President Vladimir Putin, said on Twitter that Zakharova's comments were "vulgarity masked as diplomacy".
There has been a surge in cases of anti-Semitism in the US during election year. The appointment of Stephen Bannon as chief strategist to Trump has raised concerns among American-Jewish leaders.
A sworn declaration by his ex-wife during divorce proceedings came to light, in which she accused Bannon of making anti-Semitic remarks.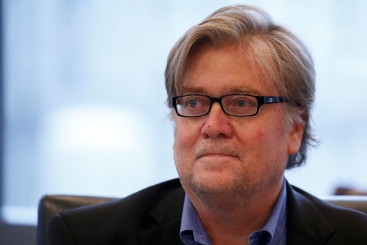 The American Israel Public Affairs Committee (AIPAC) is said to be "privately apoplectic" about Bannon's appointment. Meanwhile, following Donald Trump's election win, a synagogue in Montana called for police protection after Nazi flyers were delivered nearby .
However, the president-elect's daughter, Ivanka, and her husband, Jared Kushner, who is now one of Trump's top advisers, are Orthodox Jews and Kushner has defended Trump against any allegations of bias.