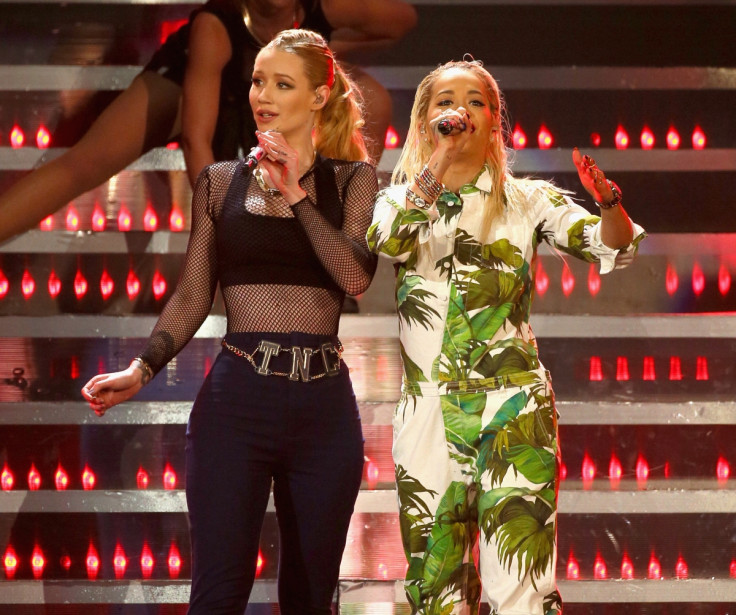 They were thought to be good friends but it appears Iggy Azalea and Rita Ora do not agree on everything. X Factor judge Ora suggested the pair recreate another version of the 1974 hit single Lady Marmalade with two other pop stars but Azalea, 25, could not be less enthused.
In an interview with The Sun, Ora, 24, revealed that she was trying to coax Azalea, Miley Cyrus and Charli XCX to get on board for a new version of the track, which was originally released by girl group Labelle, covered by All Saints in 1998 and then again by Christina Aguilera, Pink, Mya and Lil Kim in 2001. Ora said: "I'm trying to round up the troops. I think it would be me, Miley [Cyrus], Charli XCX – she'd be fun – and Iggy [Azalea]."
However, responding to the suggestion, Azalea tweeted: "Please leave me out of the whole Lady Marmalade conversation. I have nothing to do with Rita's ideas & agree it should be left alone. Thanks." When one of her Twitter followers criticised the singer for turning down the idea, the Australian rapper replied: "Girl bye, dont be p***y because I disagree with someone's idea. LOL."
Ora has not responded to Azalea. The pair are believed to have been close friends having collaborated on the track Black Widow, which featured on Azalea's album The New Classic, in 2014. The single peaked at number three on the Billboard Hot 100 but failed to match the success of Azalea's Fancy, which reached number one in the US and has been certified platinum.
Christine Aguilera's 2001 version of Lady Marmalade topped the charts around the world, enjoying five weeks at number one on Billboard. Throughout 2015, Azalea's career has suffered setbacks, with the Fancy hitmaker forced to cancel her tour twice due to production issues.
Fans will be pleased to know the rapper is returning to the music scene in 2016 with her second album, Digital Distortion, although she is yet to announce a release date. Azalea, real name Amethyst Kelly, has also parted ways professionally from her manager, rapper TI, who wanted to distance himself after her feud with hip hop icon Q-Tip.
Listen to the 2001 Lady Marmalade: