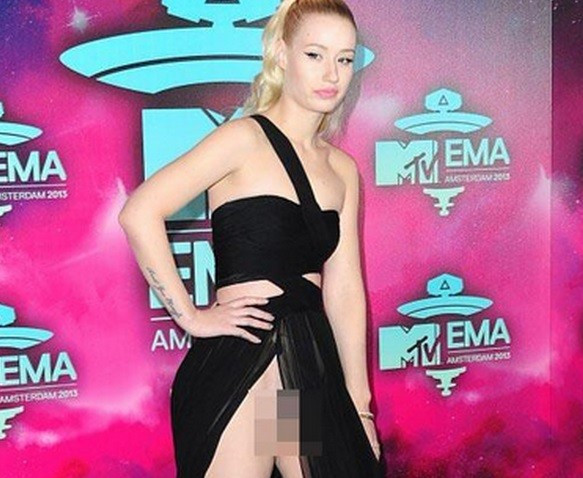 Iggy Azalea left little to the imagination when she suffered a serious wardrobe malfunction on the red carpet at the 2013 MTV European Music Awards.
The Australian-born rapper, who was nominated for the Best Push and Best Australian Act awards at the annual ceremony in Amsterdam, accidently flashed a little too much flesh as she posed for the press.
Photographers got more than they expected when her daring long black dress, which featured splits to her waist shifted to one side.
The Change Your Life hitmaker seemed unfazed by the drama and simply adjusted the gown, giving a good view of her skimpy fleshed-coloured underwear and some of her lady garden.
Images of the stunning blonde's wardrobe malfunction posted online quickly sent fans into a frenzy.
"What's wrong with exposing a vagina? Part of the human body. Doesn't bother me!! Why make a big deal out of nothing!!" One fan said
Another wrote: "So the in thing now is to go naked."
The 23-year-old star later took to social media to clear up any confusion by letting the world know that it was not her "vag lips" on display.
Posting the now infamous picture on her Instagram account, she wrote: "If you think this involves my vag lips your mistaken And yeah I'm posting it just to let you know I don't give a f*ck about a bikini line and the line that joins my ass to my leg. Enjoy."
"Lol! That's my ass from the front not my p**sy!!!! Bahahaha! I glued my panties to my p**sy before I went out I'm not that stupid,"
She later added the hashtags: "#AssSoPhatYouCanSeeThatThangFromTheFront #FlatButtsCantRelate."