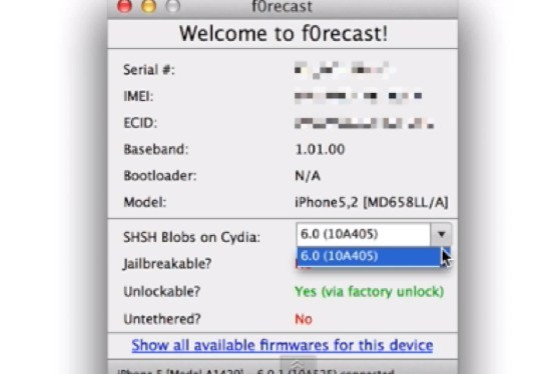 The jailbreak community still waits for the release of an untethered jailbreak for iOS 6 devices. However, iOS hacker and developer iH8sn0w has released an update (v1.4) for the f0recast tool, software believed to be an important tool for novices to the iOS hacking community.
F0recast, iDownloadBlog notes, is meant to provide simple and useful information to aid in jailbreaking, unlocking and downgrading of iOS devices. It does this by providing information about a device's compatibility with/for a desired task.
Notable features now supported with this new f0recast update are given below:
Shows available SHSH blobs stored on Cydia's TSS server
Provides a link to the list of firmwares available for the connected device
Supports the latest devices (iPhone 5, iPod Touch 5, iPad Mini)
Includes a built-in update checker
Adds support for latest jailbreaking scenarios
Comes with a few UI changes
Removes the ability to check factory unlock status owing to legal issues
Known Bugs or Issues
Windows 8 users are required to install the .NET Framework 3.5, using the workaround suggested by Microsoft.
Downloads
Download iH8sn0w f0recast v1.4 for Windows
Download iH8sn0w f0recast v1.4 for Mac OS X (10.5+)
Check out the video tutorial below to view iH8sn0w f0recast v1.4 in action, courtesy of iDownloadBlog: