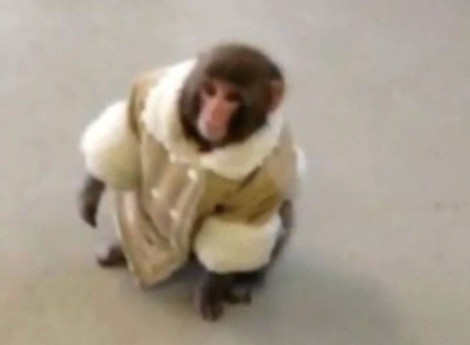 The baby monkey which became an internet sensation after wandering round a Canadian branch of Ikea has now been given a new home.
Darwin, a seven-month-old macaque, escaped his owner and went for a stroll around the Toronto store's car park on Sunday. It appears he made his escape by opening the doors of his crate and his owner's car.
The intrepid primate, wearing a sheepskin coat and nappy, was eventually cornered by store staff and collected by animal services officers. However the incident was captured on camera by an Ikea customer, and the footage has already received over 100,000 hits on YouTube.
Following the incident, Darwin's owner, lawyer Yasmin Nakhuda, was fined $240 for keeping a prohibited animal, and told the meandering monkey had to be rehoused.
Darwin has now been moved into a Toronto animal sanctuary, where he will live with 22 other monkeys.
In her defence, Nakhuda says she initially agreed to take care of the monkey on a temporary basis before bonding with the animal, eventually taking it to work with her. She also argued that Darwin should be given the chance to choose his own destiny.
"How do we know what he needs unless he's given the right to choose?" she asked Toronto news station CP24.
"I think he should be given the right to choose. If he chooses something else than me, that's fine. For me, it has never been about me, it has always been about him."