Real Madrid captain Iker Casillas is reportedly open to the idea of leaving his boyhood club for a Premier League outfit. Spanish newspaper AS believes Liverpool may have joined Arsenal in the hunt for the player, who is reportedly valued at £17m.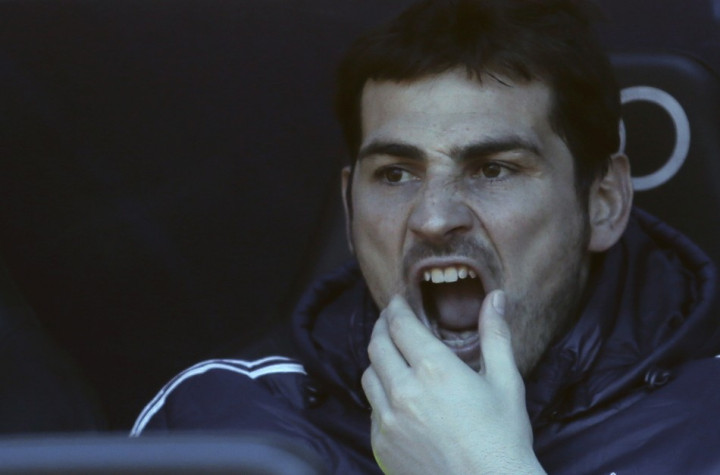 The 31-year-old Spanish international is regarded as one of the best goalkeepers in the world and, until recently, was the unquestioned No 1 at the Santiago Bernabeu.
However, a series of disagreements with manager Jose Mourinho led to him being dropped by the Portuguese in favour of reserve goalkeeper Antonio Adan. This sparked speculation the fans' favourite would look to finish his playing career outside of Madrid; much as club legend Raul Gonzalez did when he left in 2009.
The Spaniard broke fingers on his left hand, in January, while playing in a league game. He has since returned to full training but such has been the form of Diego Lopez, signed from Sevilla to provide temporary back-up, Mourinho has confirmed Casillas will have to earn his place back.
Casillas, who is also the captain of the Spanish national team and a World Cup and European Championship winner with La Roja, has been quoted as admitting he wants to retire with the Spanish giants but was unwilling to remain in Spain (and play against his old club) if circumstances led to his transfer.
Casillas and Arsenal
Arsene Wenger's search for a more experienced goalkeeper, to provide cover, competition and potentially even replace present No 1, Wojciech Szczesny, is old news. The Gunners have been linked to a number of options, including Casillas' national team mate, Pepe Reina of Liverpool, Chelsea's Petr Cech and Barcelona No 1 Victor Valdes.
A fee of nearly £20m is generally something you'd expect Wenger to think twice about paying, particularly if the player is already over 30. However, such is the wealth of experience and quality Casillas can offer that it is likely to be a bargain. And money is unlikely to be an issue at the Emirates, with reports suggesting Wenger will have £70m to spend in the summer.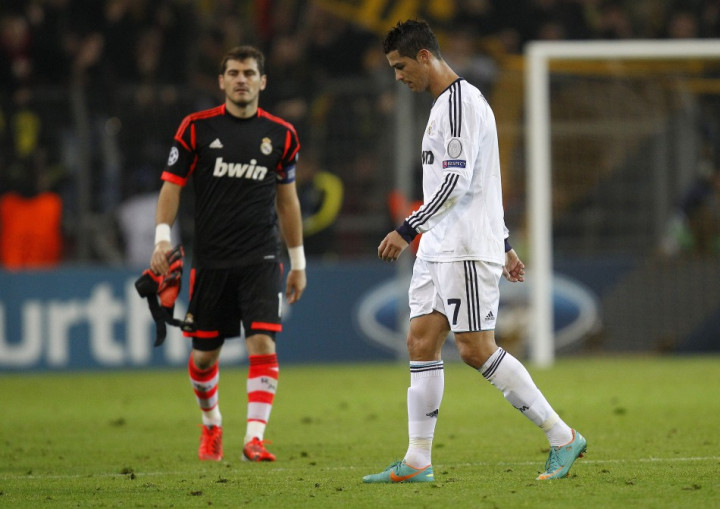 In addition, goalkeepers do tend to have longer careers than outfield players. Casillas could therefore still represent considerable value for money. Also, a talkSPORT report says the Spaniard was pleased by Wenger's support during Ballon d'Or nominations last season. And there is already a strong core of Spanish players at the club - Nacho Monreal, Mikel Arteta and Santi Cazorla - which could persuade Casillas to pick the Gunners.
Casillas and Liverpool
Does Brendan Rodgers need Casillas? Well. Not really. Reina is a top-class goalkeeper, even if has had a dip in form. Of course, should the Anfield club's Madrid-born shot stopper decide to move to north London, Casillas would actually be an ideal replacement.
The loss of Jamie Carragher in the summer (the 35-year-old ex-England centre-back will retire) robs the former Swansea City boss of an experienced leader amongst his defensive ranks and that is a position Casillas can fill easily.
The only concern for Rodgers is money. Liverpool will reportedly give their manager only £20m in the summer and a portion of that has to be spent in signing another defender; to replace Carragher's departure in numbers if not experience.
Casillas and Benitez
There is one other point to mention, AS' report indicates Casillas' move to Liverpool may hinge on the re-appointment of former coach Rafael Benitez. The former Valencia and Inter Milan boss has worked with Casillas during his days as a youth team coach for the Bernabeu club and it is believed he will ask for the goalkeeper as a condition to return to Anfield.