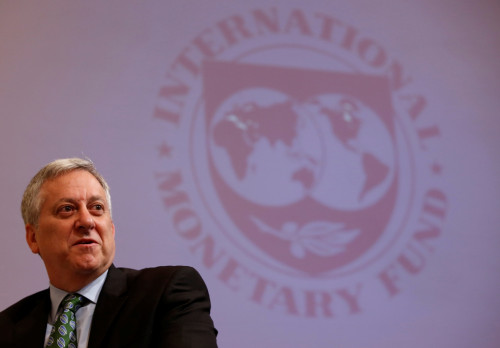 Further easing of monetary policy is not required by the Bank of Japan at present, given that inflation is approaching the bank's 2% price target, said Jerry Schiff, deputy director of the IMF's Asia and Pacific Department.
However in light of the recent global market turmoil, the central bank needs to track developments carefully and "take necessary action" if inflation shows signs of stalling, said Schiff.
BOJ Governor Haruhiko Kuroda said earlier in the month the world's third-largest economy would witness 2% inflation around the second half of fiscal 2014 through early fiscal 2015.
"Japan is making steady progress toward (achieving) 2% inflation," Kuroda told parliament on 4 February.
Kuroda's statement came a day after the Japanese Nikkei share average dropped nearly 2% and entered "technical correction" - defined as a drop of 10% or more from the preceding peak.
The Nikkei's drop, on 3 February, came as investors digested corporate earnings data amid reports of slowing economic growth in China.
Inflation Accelerates
Japan's inflation accelerated to its highest rate in over five years in December 2013.
Prices excluding volatile fresh-food costs climbed 1.3% on the year, beating expectations. Economists polled by The Wall Street Journal and the Nikkei newspaper forecast a 1.2% increase in consumer prices.
Prices including fresh food costs rose 1.6% on the year in December.
Consumer prices also increased for the whole of 2013, the first annual increase in five years. The core index for 2013 climbed 0.4% after a 0.1% fall in the preceding year.
Wage Hike
Both BOJ and Goldman Sachs have asked Japanese business leaders to increase wages, with the investment banking major warning that wages ought to increase for "Abenomics" to succeed.
Higher prices could erode household spending power in the world's third largest economy, especially if employers refuse to increase wages in the coming months.
A lower purchasing power would then impact consumer spending, threatening to disrupt Prime Minister Shinzo Abe's efforts to pull the Japanese economy out of weak growth.
The BOJ introduced an intense burst of monetary stimulus in April 2013, promising to double base money through aggressive asset purchases to reach 2% inflation in about two years in an economy that has endured 15 years of deflation.