Pakistani political icon Imran Khan has urged his prime minister to open talks with the Taliban to rid the country of terrorism.
Khan, a former cricketer who is now chairman of Pakistan's Tehrik-e-Insaf party, held a closed-door meeting with the country's prime minister Nawaz Sharif and its military chief, Gen Ashfaq Parvez Kayani.
Sources claimed that Khan stressed the need for dialogue with various factions of the Taliban to encourage reconciliation.
He also raised the issue of funding for the Taliban, and claimed that the terror scourge would not be eradicated unless the government adopted a clear, categorical policy on drone strikes.
Khan, a former Oxford student who became involved in politics after retiring from cricket in 1992, had earlier promised to cite the example of Nelson Mandela during his meeting with Sharif and Kayani.
Speaking at a labour conference in Lahore ahead of the meeting, Khan said he would suggest "a policy of reconciliation in the tribal areas, [based] on the pattern of Nelson Mandela's policy".
"Without getting rid of this menace [terrorism], Pakistan cannot progress," he said. Any terrorist group that refused to negotiate should be coerced through military force.
Khan also criticised America for its attempts to curb the global terror scourge and said US-led "war on terror" must be brought to an end.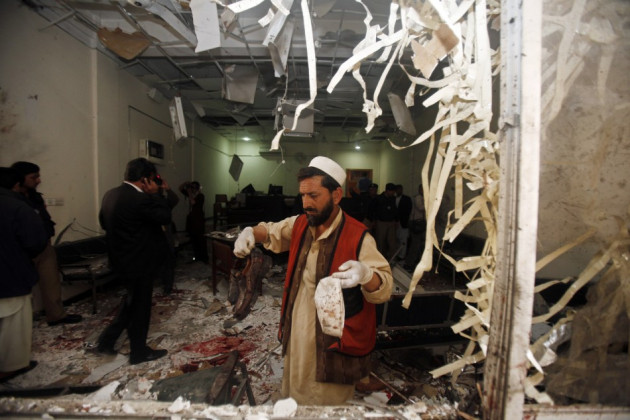 Terror crisis
Pakistan has been brought to the brink of crisis with recent sectarian attacks on a crowded market, a children's football match and a policeman's funeral.
More than 200 jihadis were freed during a jailbreak, forcing the capital city of Islamabad into a state of lockdown amid reports of imminent attacks.
Pakistan's intelligence service has long been criticised for allegedly abetting Taliban extremists. Some analysts said that agents had helped hide Osama Bin Laden before his discovery and killing in 2011.
Sharif, who took over as prime minister in June, has pledged swift and decisive action to curb Islamic militancy.
"I take a step forward and invite for dialogue all those elements who have, unfortunately, adopted the path of extremism," he said in a televised broadcast.
Ministers have announced the release of eight Taliban prisoners in a bid to accelerate the peace process in neighbouring Afghanistan