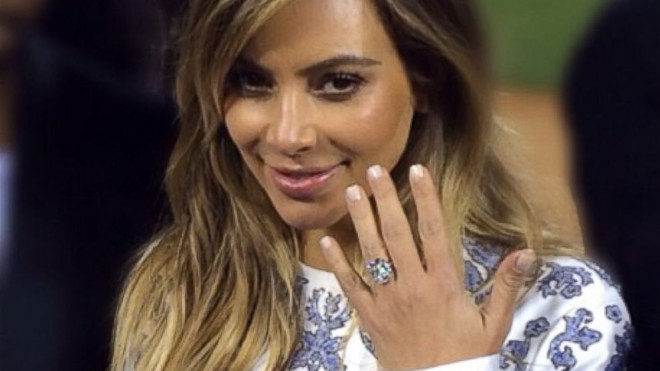 Kim Kardashian has been accused of staging her 'surprise proposal' from Kanye West after footage emerged of her wearing the ring before he popped the question.
West was said to have maden the spur-of-the-moment proposal to the reality star, who is the mother of his daughter North West, on her 33rd birthday at San Francisco's AT&T Park.
But eagle-eyed viewers now believe that they had been duped by producers after the latest episode of Keeping up with the Kardashians aired and they noticed the star sporting the 15 carat diamond sparkler a whole week before news of the proposal broke.
Radar Online claims that in one scene, which was supposed to show the lead up to the engagement, Kim's marital finger is clearly adorned with the sparkler as she chats to Kourtney and folds baby clothes.
The episode was entitled "A surprise engagement PT1" and aired on 9th February seven days before the proposal scenes.
While some fans claimed the rapper's extravagant proposal at AT&T stadium on San Francisco was staged for TV ratings others suggest that the rings' premature debut was simply down to poor editing.
This is not the first time the E! show's authenticity has been called into question.
In 2013, producer Russell Jay admitted in a 165-page deposition that at least two scenes had been "scripted, reshot or edited" to portray Kim's ex-husband Kris Humphries as the villain following their split.