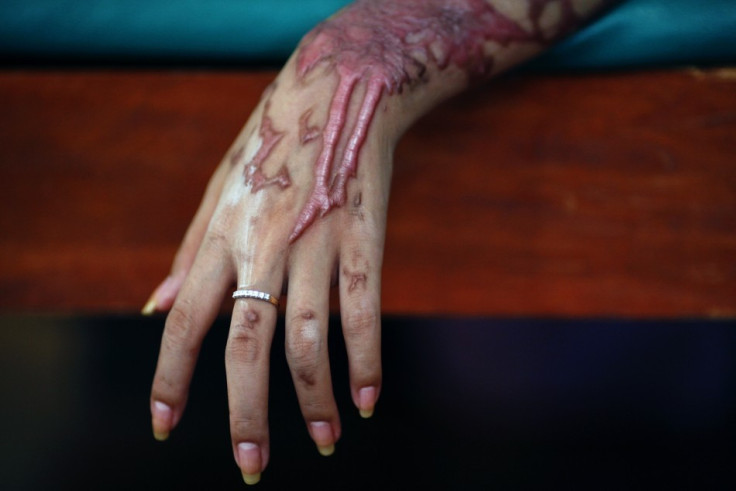 India's top court has ordered the government to curb the sale of acid in a bid to control attacks on women.
Directing the New Delhi administration to regulate acid sales, the Supreme Court has made it mandatory for anyone wishing to buy the chemical to produce an identity card.
Retailers have been ordered not to sell acid to anyone under the age of 18, while police authorities have been asked to monitor this ban.
Government officials have been instructed to raise the amount of compensation given to victims, to meet treatment and rehabilitation costs. One third of the compensation must reach the victim within 15 days of the assault being reported.
"It cannot be overlooked that acid attack victims need to undergo a series of plastic surgeries and other corrective treatment. With regard to this, the solicitor general suggested that the compensation amount to be paid by states to acid attack victims must be enhanced to at least 300,000 Indian Rupees (£5,000)," said the court.
Federal and state governments have been given three months to implement the latest rules.
The court's ruling has come in response to a plea filed by 22-year-old Laxmi, an acid attack victim, who has been fighting for nearly eight years to bring in the regulations in the sale of toxic liquid.
Acid attacks have become a common occurrence in India, with 1,000 incidents reported across the country in the space of a year. Most of the victims are women left maimed and disfigured by jilted partners or relatives.
The Delhi administration has faced strong criticism from opposition parties and rights activists for failing to address the issue adequately.
The Supreme Court earlier suggested the government has failed to draft necessary policies to prevent attacks with acid, which are often available as cleaning products and cost as little as 20 Indian Rupees (£0.22) per litre.