India's central bank, the Reserve Bank of India, has sold dollars between 60.49 and 50 rupees through state-owned banks to stop the Indian rupee's sharp decline, traders told Reuters.
At 0518 GMT, the Indian rupee was 60.3450/3525 to the US dollar, after dropping as low as 60.55, a level last seen on 29 April.
The Indian rupee dropped to a near two-month low in early trade on 17 June as oil companies scrambled to buy the greenback, after the worsening conflict in Iraq sparked concerns over inflation and the current account deficit.
As much as 70% of India's oil needs are met by crude imports, leaving its currency largely defenceless against oil price swings.
Iraq is Opec's second-biggest crude oil producer.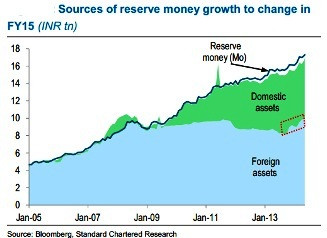 Standard Chartered said in a note to clients: "The Reserve Bank of India (RBI) is facing a problem of plenty. Since the start of May this year, foreign portfolio inflows to India have been c.$10bn (c.$4bn in equities and c.$6bn in local-currency debt).
"The RBI has steadily intervened in the currency market, with net purchases of $13.6bn in March and April. We think its main motive behind this intervention was the need to build FX reserves.
"On a standard metric of FX reserve adequacy (six-month import cover of $228bn plus short-term debt of $95bn), the RBI is still short of required reserves. Also, the RBI's governor has emphasised that emerging-market (EM) central banks may need to hold excess FX reserves when international monetary policy coordination fails - to be better prepared for an uncertain pace of monetary policy tightening in developed countries.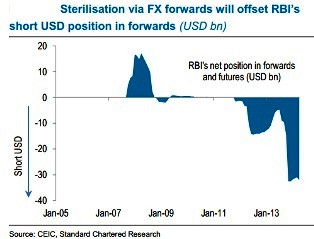 "However, intervention in the FX market was also required to stem steady Indian rupee (INR) appreciation. By end-May, the INR was overvalued by more than 6% if we use a CPI-based real effective exchange rate (REER). The current account deficit has narrowed from last year, but the RBI would be concerned about the sustainability of this process if the currency appreciates substantially," the British firm added.
The rupee finished at 60.1550/1650 to the dollar on 16 June amid news that US President Barack Obama was mulling air strikes to support Iraqi forces on the ground.