A protest by supporters of India's main opposition party nearly turned to disaster on 14 December as activists representing the Indian National Congress burned an effigy of the country's prime minister, Narendra Modi. While setting the Modi figure alight, the protesters managed to set themselves on fire as well.
At least five Congress supporters suffered burn injuries, according to local media reports. The fire got out of control as one participant lit a match while petrol was still being poured over the effigy. A disturbing video shows the burns suffered by one of the men following the incident in Shimla, northern India.
A Congress party leader told the Indian Express: "A Sikh gentleman had turned up with a bottle filled with petrol and poured on the effigy amidst slogans and cheers. The fire flared up and engulfed some of the activists."
One activist, Manoj Adhikari, is believed to be suffering from severe burn injuries and is being treated at Shimla's Indira Gandhi Medical College. Three others were admitted and discharged, while a woman had a narrow escape as her clothes caught fire but she did not sustain any burn injuries.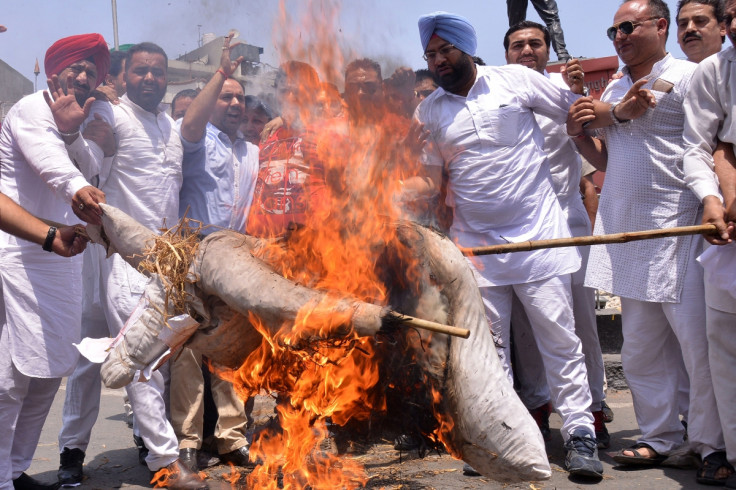 The anti-Modi protest had been led by Himachal state's Congress chief Sukhvinder Singh Sukhu over "vendetta politics" that he says the Modi-led National Democratic Alliance (NDA) government are responsible for. Similar protests were held across the state, with Sukhu saying that the NDA were working under the slogan of "Congress Mukt Bharat" (Congress-free India).
Modi's Bharatiya Janata Party (BJP) has reacted strongly to the burning of the effigy. BJP Secretart General Rajeev Bindal said it had been done to divert the public's attention from the corruption charges that allegedly face the Congress Party's national and state leaders. Bindal has also demanded an investigation into the role of the police during the incident, questioning why they remained a silent spectator.