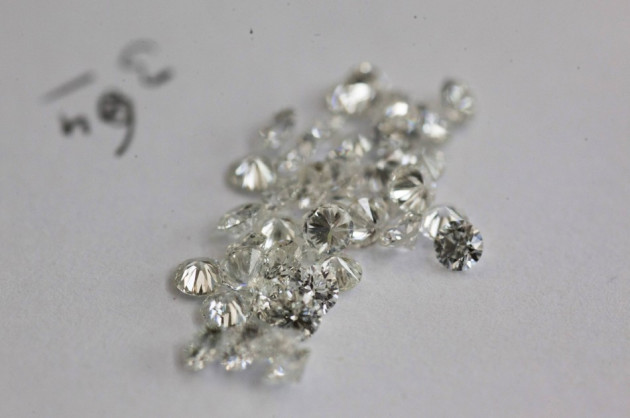 India's obsession with gold is well documented. Jewellery collections here are often never complete without the yellow metal and no savings plan is perfect for an average Indian avoiding a piece of gold, irrespective of how appealing and profitable it may be.
While the country's fascination for gold has its fair share of critics, Indians, of late, have developed a major interest in a related section - diamonds.
According to the Global Diamond Industry Report 2012 released by business consultant firm Bain & Company in collaboration with Antwerp World Diamond Centre (AWDC), India is world's third-largest diamond market, with $8.5bn annual revenue, and is growing rapidly.
Nearly 90 percent of affluent Indian women own diamond jewellery, Caroline De Wolf, spokesperson of AWDC told IBTimes UK.
"Growing personal incomes and rapid urbanization, many Indians have adopted Western traditions such as solitaire engagement rings and Valetine's Day celebrations," she said.
"Most diamond jewellery, roughly 60 percent, is purchased for 'love occasions' such as weddings or engagements, birthdays and anniversaries".
Speaking to IBTimes UK, Sachin Jain, MD of Forevermark, the subsidiary of world's largest diamond supplier De Beers notes that diamonds account for 30 percent of India's rapidly growing $25bn jewellery industry.
"We are seeing two main emerging trends within India - the first is the increased consumption of jewellery as everyday wear," Jain noted.
"Diamonds are becoming more prevalent within day-to-day pieces as they offer flexibility in terms of style and colour, often adding a more contemporary feel to a look or outfit. The second is the demand for transparency and certification of diamonds".
India's newfound interest in the precious stone has even prompted industry experts to name the country along with China as the main driver of diamond demand in the coming years. Jain estimates that from 2000, the value of Indian and Chinese diamond demand is gradually growing and will achieve seven and half folds growth by 2015. According to a Bloomberg report citing a presentation from De Beers' owner Anglo American, the two countries' share in global diamond demand will rise to 28 percent by 2016 from the 20 percent in 2012.
As the diamond companies are all set to target the lucrative Indian wedding market to make the most of this new interest, an increasing number of young Indian women are preferring diamond to gold for the big day.
"What I like about diamond jewellery is that they provide the same social acceptability as gold, but without the physical size or weight of it," says Maria Mathew, who plans to get married this year. She did have concerns on the value of the stone in the longer run, but shop owners have told her that in case she wanted to sell it at any time, a fixed price was guaranteed.
This has been a line taken by jewellery advertisements as well in a bid to ease concerns and lure customers. A recent campaign from one of the leading jewellery groups in South India exclusively focuses on clarifying that diamonds they sell can be taken back for the same price.
Indian market trends are also significantly different compared to the many other parts of the world. Speaking to CNBC, Forevermark CEO Stephen Lussier notes that India is the most extravagant market in terms of its diamond designs.
"Women wear such extraordinary pieces. You wouldn't see that in Europe unless you were having dinner with the Queen," he said, adding that his company spends $4mn to $5mn per year on consumer marketing in India.
Gold Demand to Stay Despite Price Rise
India's gold imports climbed to $56bn from $21bn between 2009 and 2012, despite an 81 percent price hike in domestic prices.
In fact, India's interest in diamonds is not just about the jewellery, it has also to do with the increasing gold price in the recent times and the depreciation of the Indian currency against the dollar- the rupee fell about 4 percent against the dollar in 2012.
A weak local currency propels gold prices since the metal is valued in dollars.
At the same time, the costs of diamonds have become less. According to the Rapaport price index, which is considered an industry benchmark, the average price of certified one-carat polished diamonds fell 12.5 percent in 2012, mainly due to Chinese slowdown and Indian policy paralysis. Rough diamond prices dropped 16 percent in the year. The decline in prices has even prompted De Beers to limit its production in 2013 to ensure market value. In an interview with Bloomberg, De Beers Chief Executive Officer Philippe Mellier noted that improvement in the Indian conditions, along with those in China and US is going to increase demand in the year.
It is also important to note that the Indian government is increasingly becoming alarmed about the public's gold obsession. The country's current account deficit picked up to a record 5.4 percent of the gross domestic product (GDP) in the July-to-September quarter. This has prompted the administration to hike import taxes for the yellow metal, hoping to discourage buyers.
But despite all these factors, gold may not lose its sheen in India anytime soon as beyond all the glitter its all about the returns in the subcontinent. Gold still makes perfect sense as investment in the country where inflation staggers at about 10 percent and the best interest rate that banks can provide hovers around eight percent.
"People have a budget, but they'll still put it in gold," the Globe and Mail quotes Sanjay Kasliwal, an Indian jeweller.
"If the price goes up, they buy 490 grams instead of 500 grams, that's all. The Indian hunger for gold, you can't change that."
Moreover, the economic context of gold purchase is different here. Average Indian families still set aside money to buy gold when a female child is born. Gold is still a social requirement for marriages and people are often willing to pull out all stops to make sure the metal is present in all auspicious occasions in the family.
Hence, though there is an increase in women preferring diamonds to gold for weddings, the yellow metal may continue to glitter in India in the foreseeable future.