India Election 2014 Results, Latest Lead Position - Live Coverage
Hindu nationalist and former opposition leader Narendra Modi will be India's next prime minister.
Modi's Bharatiya Janata Party (BJP) party won an overwhelming majority and is set to surpass the 272 seats needed to control the lower house of parliament.
The Congress party and Nehru-Gandhi dynasty suffered a crushing defeat, with the party recording its worst ever election results.
Rahul Gandhi accepted defeat and took responsibility for the drubbing.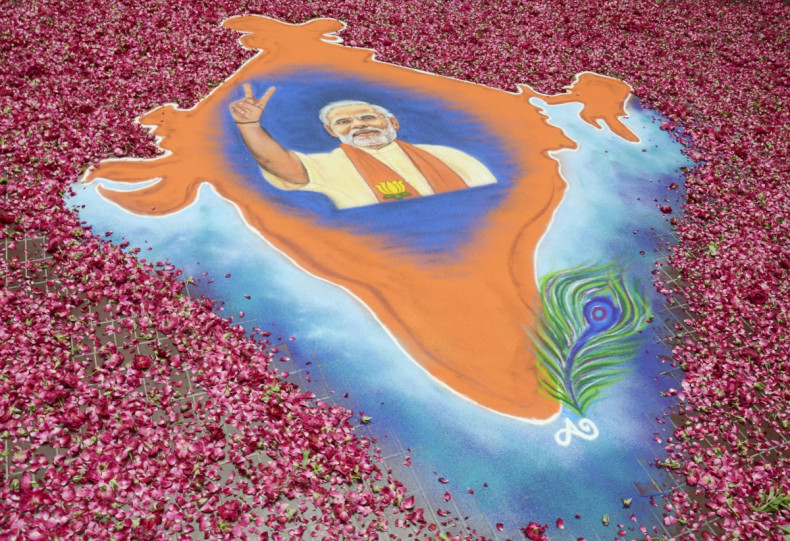 The Bharatiya Janata Party (BJP) is all set to form the next government in India as the latest lead positions indicate the right wing Hindu nationalist party and its allies are going to win more than 300 seats in the 543-member Lok Sabha, the lower house of parliament.
Narendra Modi, the prime ministerial candidate and the architect of the surprisingly strong performance, is set to win in the two constituencies he contested, Vadodara and Varanasi.
The ruling Congress is headed for the worst electoral showing in its history, while the political left in the country is on its way to becoming more marginal.
Key Information:
Number of eligible voters – 814 million
Voter turnout – 66%
Parliamentary seats up for grabs – 543
First time voters – over 120 million or 20%
Main political parties – Right-wing Bharatiya Janata Party and Centre-left Indian National Congress.
All times are in IST - GMT+ 05:30
22.49 - Our live coverage of the Indian elections ends here. Stay with IBTimes UK for the latest developments.
22.46 - The latest update from the Election Commission of India says BJP won in 266 seats and is leading in another 16, on course to secure a majority in the lower house of parliament.
22.15 - Arshad Madani, the leader of the Jamiat Ulema-e-Hind, an influential socio-political organisation of Muslim clerics said that the rise of Hindu Nationalism with Modi's victory will, in turn, result in a rise of Islamic extremism.
"As fundamentalism feeds fundamentalism, the rise of Modi will definitely strengthen radical Islamists in India, Pakistan and Bangladesh," he said. Read more here.
22.12 - More than 66% of India's 814 million eligible voters cast their ballot, a record turnout for the country of 1.2 billion.
22.00 - Indian stocks jumped as preliminary results from national elections indicated BJP party won a landslide victory, AP reports.
"The BJP victory is likely to herald a revival in India's economic fortunes, with the potential to boost Indian GDP growth back over 8 percent by 2017," said Rajiv Biswas, Asia Pacific Chief Economist at IHS Global Insight.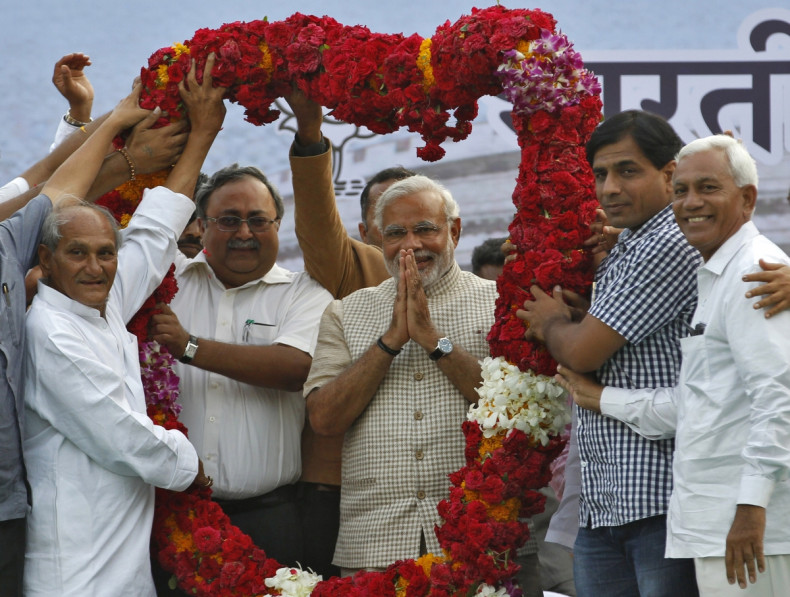 21.56 - According to the last update from the Election Commission of India, Modi's BJP has won in 248 of the 543 total constituencies and is leading in another 34.
The Hindu Nationalist party is thus on course to win 282 seats, surpassing the 272 needed to secure a majority in the lower house of parliament.
21.32 - Modi says he will not betray the trust India has placed in him.
21.27 - There is no power in the world that can stop a country of billions, says Modi in Ahmedabad, according to a translation by the Hindustan Times.
21.26 - Modi's speech has been briefly interrupted by the crowd of supporters chanting his name.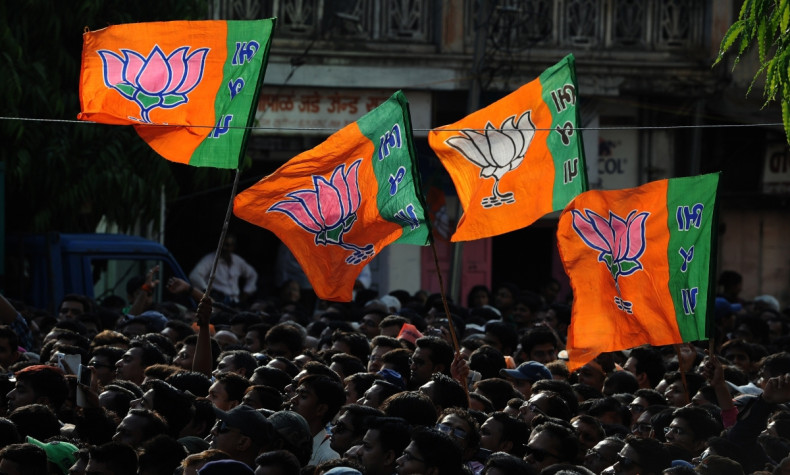 21.24 - "The people of India have given us a clear majority which means there is also a lot of responsibility on us," Modi says, The Times of India reports.
"The youth of India led the front in this election, rising above differences of caste and creed."
21.22 - Modi is addressing supporters in Ahmedabad, northwestern India.
21.12 - US President Obama's National Security Council tweeted:
21.10 - IBTimes' Kabita Maharana had a look at the ballot performances of India's celebrity politicians, such as Bollywood actress and AAP candidate Gul Panag.
Read more here: India Elections 2014: How Did Bollywood Politicians Fare in the Battle of the Ballot?
20.49 - BJP supporters have floated an illuminated lotus flower, the party symbol, on the river Ganges at Dashasamedh Ghat during the nightly Ganga Arti puja ceremony to celebrate the election results in Varanasi.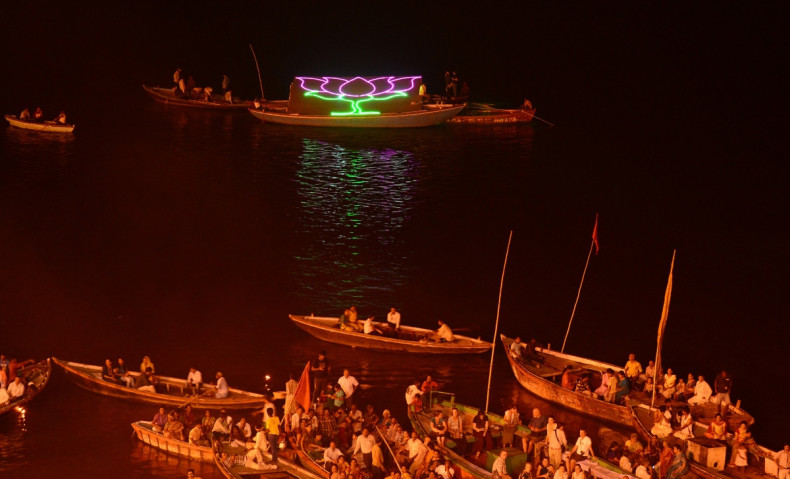 20.46 - Earlier, India's Press Information Bureau confirmed that also Rahul's mother, Sonia Gandhi, the president of the party, re-won her seat as MP for Rae Bareli.
20.39 - A little good news for the defeated Congress party: Rahul Gandhi has won the vote in his constituency and will thus retain his seat as MP from Amethi, The Times of India reports.
20.34 - Chris Ogden a Lecturer in Asian Security at the University of St Andrews, has analysed for IBTimes UK the impact that BJP's victory will have on India's foreign policy.
"Any re-orientation will be firmly based upon bolstering India's international standing, and buoyed by a substantial election victory that could indicate a decade of BJP rule, any change will have a global impact," Ogden wrote.
"Close ties with the US will remain as a key pillar of India's international relations but again viewed through a primarily economic (rather than strategic) lens.
"The fulfilment of several large military deals will provide another key touchstone. These will allow India to better protect vital trade and energy security routes across the Indian Ocean Region (IOR), which are essential to ensuring her improved rates of economic growth."
Read the full article here: India Election 2014: How Narendra Modi will Tackle Israel, Russia, Pakistan - and Obama
20.20 - Here is a table showing the latest update on the count by the Election Commission of India: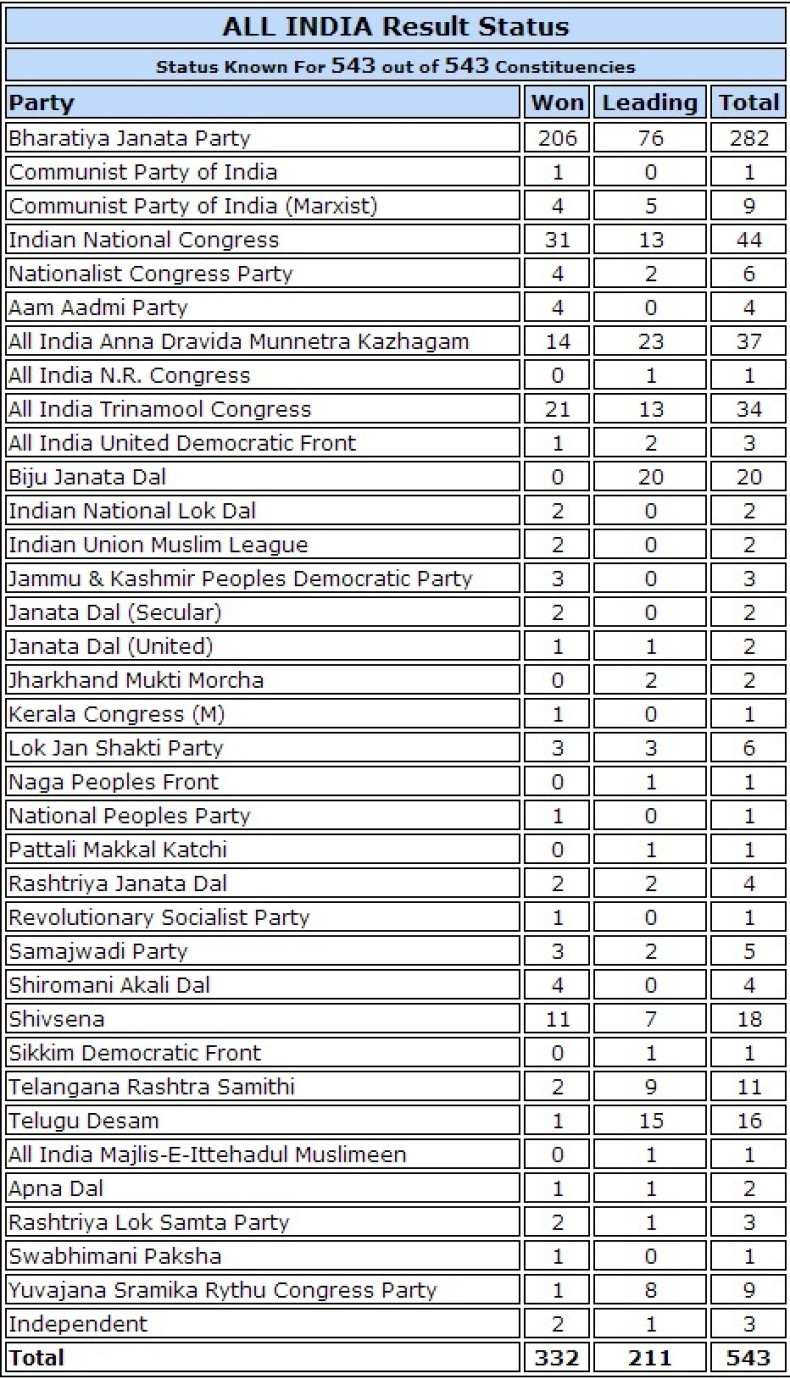 20.16 - NYT reporter Malavika Vyawahare tweeted:
19.56 - As Modi and his BJP party recorded a landslide victory, the Indian rupee hit an 11-month closing high of 58.79 against the US dollar.
19.39 - Here are a handful of lesser known facts about India's next PM, Narendra Modi:
As a boy he was bitten on the leg by a crocodile while swimming in a lake in Gujarat. He escaped with only nine stitches on one foot.
The third child in a family of eight, he grew up in a poor village family, helping his father sell tea at Vadnagar railway station.
Born in 1950 he will be the first prime minister born after the India's violent 1947 partition and independence from imperial Britain.
At 18, he was married to Jashodaben Chimanlal a girl his parents had chosen five years earlier. He however quickly abandoned her and he later took a lifelong vow of brahmacharya or celibacy, upon joining the Rashtriya Swayamsevak Sangh (RSS) right-wing paramilitary group.
He will be India's first lower caste prime minister.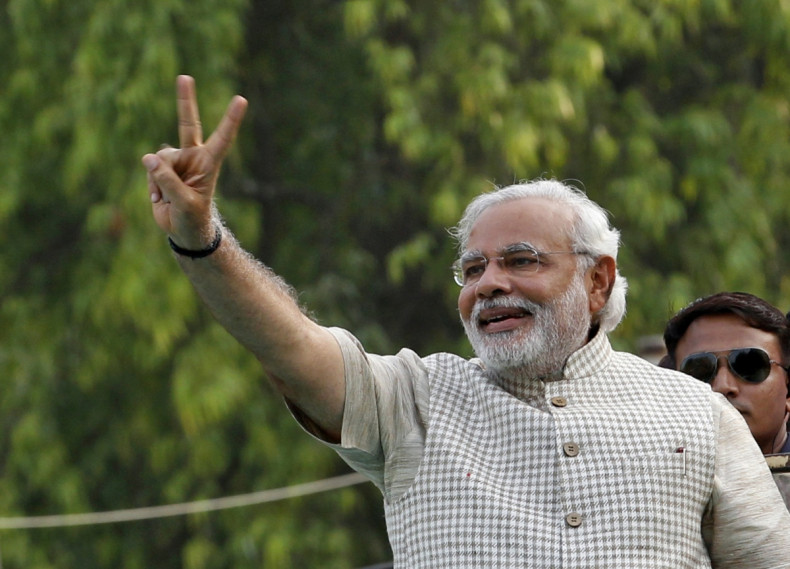 19.22 - Sreeram Chaulia, a political analyst and dean of the Jindal School of International Affairs, said:
"A lot of ordinary people believed in (Modi's) message and wanted to give him the strong mandate he was seeking, to see if he could really change things in India.
"There has been growth in the middle class, so of course why have they punished the incumbents? Because they want more, obviously, something more than subsistence. They want upward mobility."
19.03 - According to a translation from the Hindustan Times, Modi has ended his speech with a call for cooperation to other political parties.
18.55 - Modi has ended his victory speech in his constituency of Vadodara.
"The kind of affection you showed for me, every voter became Narendra Modi," he said.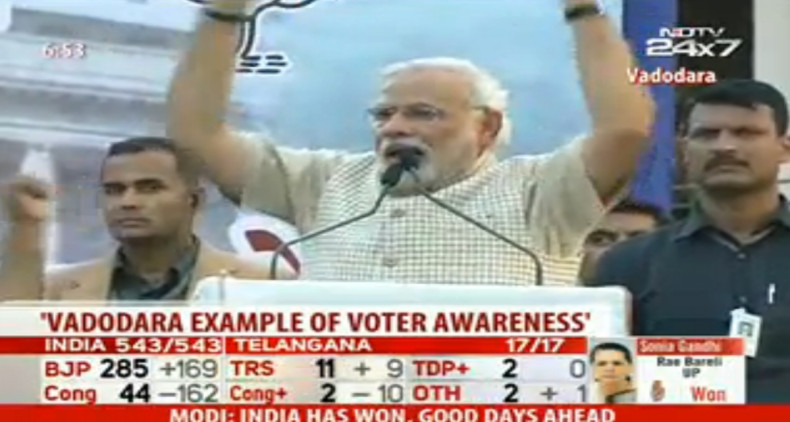 18.50 - More from Modi's speech: "Brothers and sisters, you have faith in me, and I have faith on you. We have the capacity to fulfil the common man's aspirations."
18.46 - With more than 55,000 retweets, Modi's victory message has become the most retweeted in India's history, according to Twitter India.
18.42 - After taking a moment to soak up the adulation, Modi says "You see wherever Modi is standing he somehow understands your problems, the problems of people."

18.40 - As supporters chant 'Modi, Modi, Modi' the incoming leader continues: "This has shown what people themselves they can do, how much they can do. I want to say in future that this is the strength of a country's democracy.
18.12 - Modi continued his speech by saying 'I thank you from all my heart. You have given me a huge responsibility."

18.10 - Modi has given a victory speech in his constituency of Vadodara, telling voters that he chose to speak there because "you all have the first right over me. I gave you only 50 minutes, you gave me more than half a million votes."

18.06 - Another congratulatory tweet, this time from Anand Mahindra, who writes "congratulations Shri Modi, for your remarkable rise. India's impatience to rise has put you on top. May you fulfill this great expectations."

18.03 - Based on provisional results from India's electoral commission, BJP are going to end up with 280 seats - which will break records and give Modi's party an overall majority.

17.57 - Australian PM Tony Abbott has tweeted to say he congratulates Modi and said "I look forward to strengthening ties between India and Australia."

17.30 - After a long and eventful day, I'm handing over the reins to Umberto Bacchi.

17:00 - Have a look at the grim unravelling of Rahul Gandhi by Jijo Jacob.
17:11 - Pakistan's Prime Minister Nawaz Sharif sends his congratulatory message to Modi.
16:56 - Barring very few regional parties like Jayalalithaa's All India Anna Dravida Munnetra Kazhagam (AIADMK) and Mamata Banerjee's All India Trinamool Congress, several others have miserably failed to secure seats.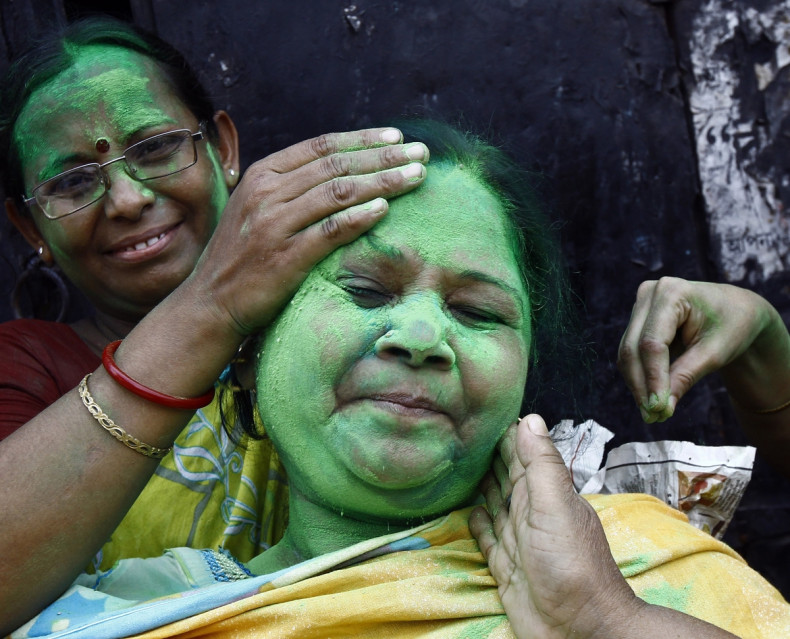 16:56 - Regional parties, which had played key role in the formation of federal government in the last 20 years, will have very little job in the functioning of the parliament for the next five years giving more room for BJP to act independently and not yielding to coalition pressure.
16:43 - "Narendra Damodardas Modi, hard-line Hindu nationalist, controversial legislator, fire-brand orator and organiser par excellence, will be at the helm of the world's largest democracy for the next five years." A closer look Modi's meteoric rise.
16:37 - Both leaders do not take any questions from the reporters.
16:36 - In her brief remarks, Sonia says she is taking responsibility for the rout as she is the chief of the party.
Congress president says: "We hope that the new government will not compromise on the country's unity and interests of the people. Whatever votes we have got, I thank party workers for them. I take responsibility for our loss."
16:33 - Rahul Gandhi, Congress Vice-President, accepts defeat and takes responsibility for the drubbing.
Rahul Gandhi: "I start by congratulating the new government, they've done really well. The Congress has done really badly, we have a lot to think about. As its vice-president I hold myself responsible."
16:33 - Rahul Gandhi and Sonia Gandhi address press conference.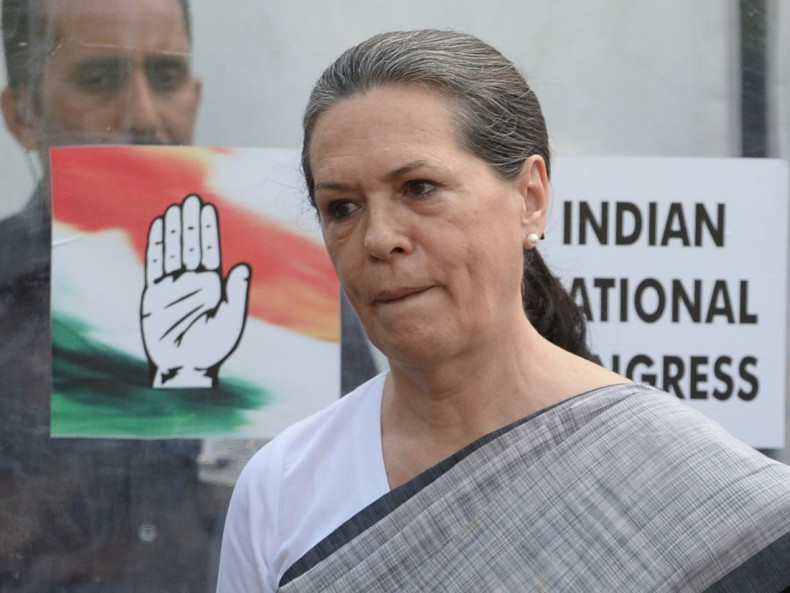 16:15 - AAP leader Arvind Kejriwal speaks to reporters and express disappointment over his party's performance, especially in Delhi.
Kejriwal, who admitted his loss, says the AAP did not have enough to resources unlike the major parties BJP and Congress.
16:07 - Modi arrives at the party headquaters in Ahmedabad. It is still unclear when he will be addressing the media.
16:06 - Congress President Sonia Gandhi is expected to address media shortly.
16:04 - To illustrate the election results, Nielson India has come up with this Google map.
15:50 - UK's Foreign Secretary William Hague congratulates Modi on his victory. "I congratulate Narendra Modi and the BJP on their success and look forward to forging an even closer partnership with India in the months ahead."
15:30 - Singh: "Advaniji is our senior most politician and mentor."
15:26 - BJP's central parliamentary board is set to meet tomorrow (17 May) to decide further course of action.
15:25 - Singh: "The young Indians have given a mandate to the BJP and this is a historic win. I congratulate the party workers for their hard work."
"I also wish other politicians who fought in this elections."
15:22 - Rajnath Singh: "We now have an oppurtunity to rewrite India's history."
15:21 - Rajnath Singh's remarks: "Since 1984, this is the first time any political party has secured a clear majority."
"BJP has overcome caste, creed and religion by securing a clear majority. Modi's popularity has secured the victory for the BJP."
"Modi has worked extremely hard for this victory. I don't think anyone else has worked so hard as Modi."
"BJP's victory will herald a new era. The saffron flag [of the BJP] will flutter across the country."
15:17– BJP President Rajnath Singh along with other senior leaders attend a press conference.
15:09 - BJP is set to hold a formal press conference.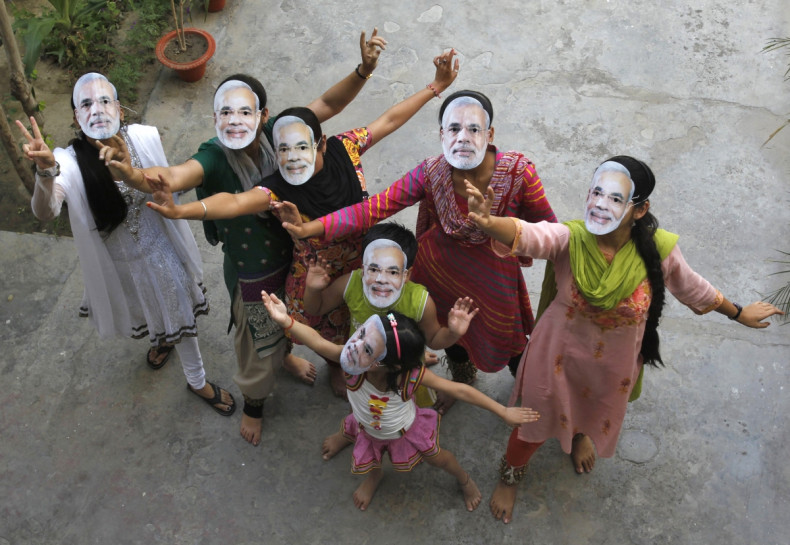 15:03 - British PM David Cameron congratulates Modi on election win. The Number 10 says: "Congratulations @narendramodi on victory in India's elections. Keen to work together to get the most from UK-India relationship."
14:50 - Sri Lankan president is one of the first heads of state to congratulate Modi. The presidential office tweets: "President Rajapaksa called @narendramodi a short while ago; Congratulated on BJP victory & invited for a state visit to #SriLanka. #India
14:29 - Congress president Sonia Gandhi wins Rae Bareli seat.
BJP sweeps Gujarat and is on its way to win all the 26 seats. Meanwhile, Modi wins the hotly-contested Varanasi seat in Uttar Pradesh state as well.
14:09 - In a stunning development, BJP strongman and 'would be finance minister' Arun Jaitley loses in Amritsar constituency.
13:59 - Markets have been cheered by a prospective BJP win, with the main stock indexes and the rupee strengthening in the run-up to the election result. But investors will flee equity markets if a Modi administration cannot deliver on its promises, analysts tell IBTimes UK. Read the analysis by M. Rochan.

13:56 - Modi wins Vadodara seat, one of the two constituencies he contested, by a record margin of little more than 570,000 votes.
13:51 Have a look at these sarcastic messages and the tweets that are setting the social media on fire following the election results, put together by Kabita Maharana.
13:42 – A specially dedicated website is displaying congratulatory messages to Modi. Have a look at the collection of remarks at this "Victory Wall".
Modi begins tweeting victory messages. In his tweet, he adds the #CongratsNamo hashtag.
13:36 – Outgoing Prime Minister Manmohan Singh congratulates Modi on election victory. The official twitter account says: "Prime Minister Dr Manmohan Singh calls Shri Narendra Modi and congratulated him on his party's victory in the Lok Sabha elections."
13:33 - First official results are out. The Election Commission of India has announced the BJP has won two seats and the Communist Party of India has won one.
13:28 – Here is a closer look at how a Modi cabinet would look like. A detailed piece by my colleague Jijo Jacob.
13:25 – Amid BJP's dramatic show at the election results, Arun Jaitley, the party's chief strategist and one of the closest advisors of Modi, looks likely to lose his seat in Amritsar. This will be a setback for the party, but the BJP grapevine has it that even if Jaitley loses he would still be inducted in the cabinet.
13:13 – Senior BJP leader Sushma Swaraj, who is tipped to get the foreign or defence ministries in the new cabinet, writes on her twitter account: "This victory is the result of hard labour of millions of BJP Karyakartas, blessings of Sangha and able leadership of Shri Narendra Modi.
BJP veteran LK Advani takes a dig at Congress saying: "Never in history has any Govt worked so hard to lose. People have blessed Modi."
13:12 – Prime Minister Manmohan Singh is set to tender his resignation on 17 May.
13:05 - Google releases special doodle to mark India's election results with the inked finger replacing the letter 'L' of the Google.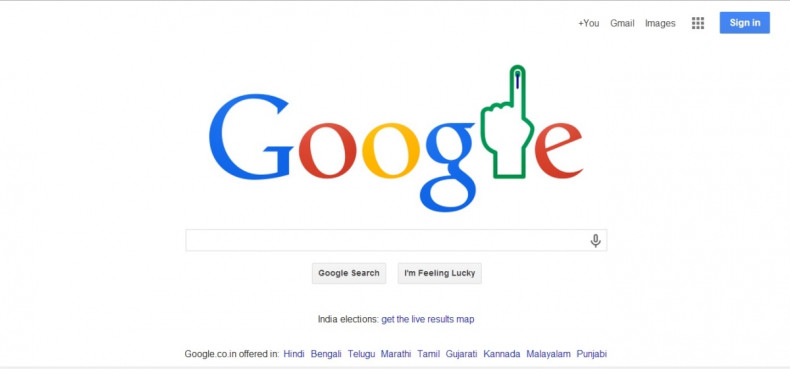 12: 58 - India's powerful association of business organisations, the Federation of Indian Chambers of Commerce and Industry (Ficci), congratulates Modi saying: "A clear mandate is positive for India."
12: 50 - https://www.youtube.com/watch?v=89nzm0BmCy0&sns=fb
Video of celebrations taking place in Times Square, New York to mark Modi's dazzling performance.

12:34 - Television network Times Now reports Modi is to be sworn in as Prime Minister on 21 May.
Modi is likely to address rallies later in the day and the crowds of supporters have already begun to gather in BJP offices in Gujarat, Delhi and other places.
As Modi's coronation nears, here is an article by Finbar Bermingham, looking at recent comments comparing the right-wing figurehead to other prominent, yet controversial, world leaders.
12:27 - Going by the initial results, this will be one of the biggest victories for any party in the last two decades. In 1984, Congress won 415 seats following a wave of sympathy after Indira Gandhi's assasination. Since then, national elections haven't returned a clear majority for any party.
In the Congress stronghold of Rae Bareli, the party president Sonia Gandhi is leading by more than 140,000 votes. Her son Rahul Gandhi, who led the Congress campaign, is still facing a stiff challenge in Amethi, leading by just a few thousand votes.
12:12 - Modi meets his mother to seek her blessings. His mother and his estranged wife will also get high-profile security after Modi takes over as Prime minister.
12:12 - Narendra Modi, in his first reaction as results emerge, tweets: "India has won! भारत की विजय। अच्छे दिन आने वाले हैं।" (Victory for India! Good days are about to come!)
12:03 - In Uttar Pradesh, the north Indian state with a total of 80 parliamentary seats - the largest in any state - the BJP is leading in 63 seats, decimating the powerful regional parties. Modi had given special attention to UP nominating his confidante Amit Shah to take care of the election campaign.
11:57 - To put things in perspective, the ruling Congress party is on the verge of losing the rights to have an opposition leader. If it slips below 55 seats, the minimum 10% of the entire Lok Sabha (lower house) seats required to nominate an opposition leader, the party cannot have one.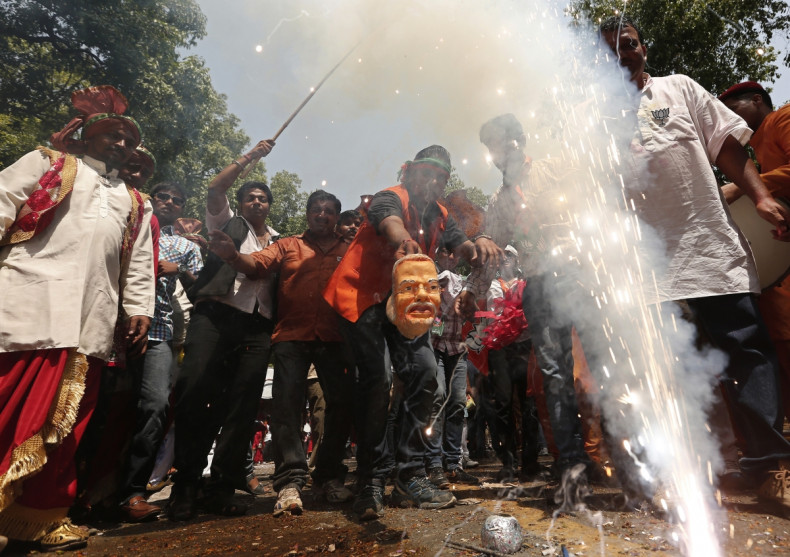 11:51 - In a massive upset, Salman Khurshid, senior Congress leader and the current external affairs minister, is trailing in fifth place and is certain to lose.
11:46 - In Vadodara, Modi is leading by a historic margin of 540,000 votes against his opponent. He leads by about 25,000 votes in Varanasi, followed by the AAP leader Arvind Kejriwal.
11:40 - Samosas, an Indian snack, are being distributed in Times Square to mark Modi's imminent victory.
11:30 - There are more media people waiting outside the Congress headquarters in Delhi than party workers. The office bears a deserted look.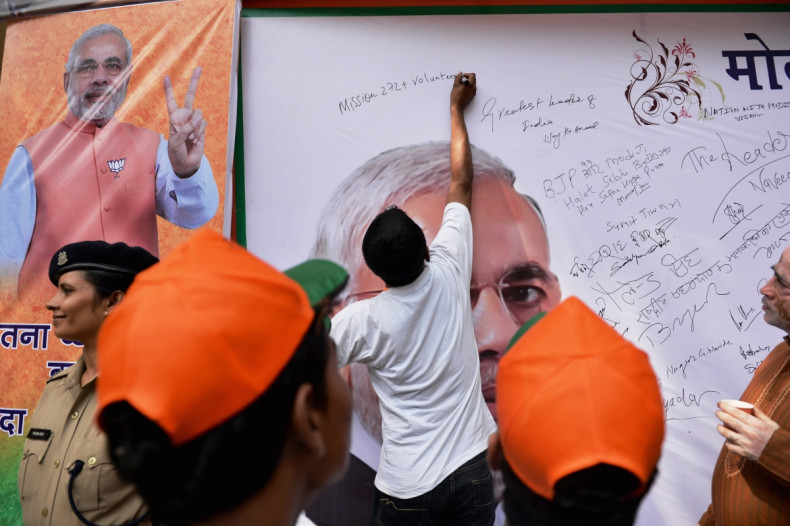 11:07 - Media reports and television channels are filled with words like "historic defeat", "tsunami", "Congress rout", "washed out", to define Congress' performance.
11:03 - Modi's family jubilant about the emerging results. His mother offers special prayers.
Congress spokespersons categorically concede defeat.
Congress' plight is awful with the current lead position showing the party leads only in 62 seats. This compares with more than 60 seats just two regional parties limited to their respective states – TMC in West Bengal and AIADMK in Tamil Nadu -- are poised to bag between them.
10:52 - Congress leaders who appear on television channels are defending the Gandhi scion Rahul Gandhi, who lead the entire election campaign. Senior figures say the whole party is responsibile for the results.
Congress' Rajiv Shukla tells NDTV: "Modi sold a dream and people subscribed to it."
Security has been beefed up outside Modi's house.
10:46 - Congratulations pouring in for Modi.
BJP President Rajnath Singh tweets: "Congratulated Shri @narendramodi over the phone on BJP's superb performance in the Lok Sabha elections. Trends indicate it is a landslide."
Senior political leader from the state of Andhra Pradesh said: "Congratulating @narendramodi and looking forward to work with him. Development, good governance at State & Central government."
10:35 - Senior Congress leader Abhishek Singhvi admits the early results hint it is a "complete rout" for Congress.
"I still anticipate changes in the east and the south and in the north east. But I agree with you that this is overall picture, there doesn't seem to be any part of India [that has swung to the INC] except Kerala to an extent where there is an exception," he tells CNN IBN.
10:29 - Congress President Sonia Gandhi is expected to hold a press meet shortly. She is likely to own up the defeat. The Congress leader is most likely to come across as saving her son Rahul Gandhi's political future as he led the party into one of the worst defeats.
10:15 - Celebrations kick off in BJP's offices with party cadres cracking fireworks and distributing sweets.
On the contrary, Congress workers outside their offices start shouting slogans asking for Rahul Gandhi's sister Priyanka Gandhi to lead the party hereafter, following Congress' routing.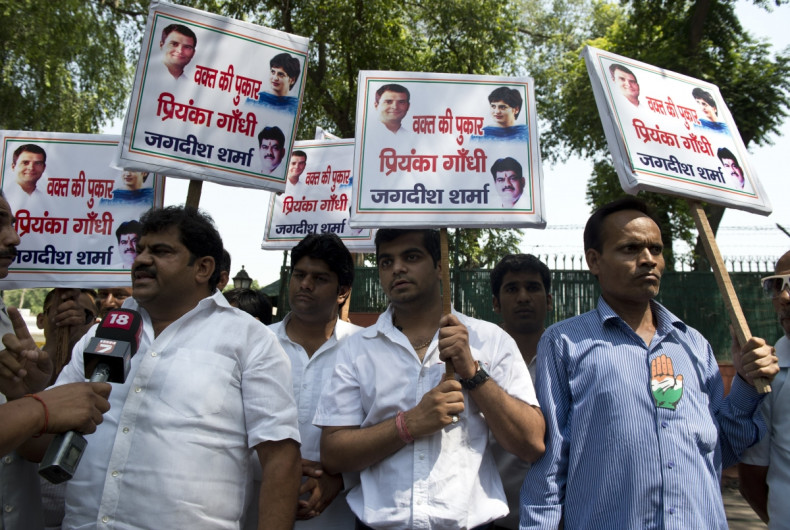 10:10 - As it is almost certain that next Indian government will be led by Modi's BJP, here is the manifesto released by the party ahead of the polling.
10:00 - High-profile candidates of Congress Nandan Nandan Nilekani, Meira Kumar, Kapil Sibal are all trailing.
Sensex gains more than 1,300 points to cross 25,000 mark while 50-share Nifty breaches 7,000 points for the first time.
Rahul Gandhi trailing in Amethy as the Grand Old Party is set for its worst election defeat in history.
09:54 - Fireworks at both the social media and at stock markets as 'busines-friendly' Modi looks almost certain to occupy the Prime Minister's Office for the next five years.
At last, Rahul Gandhi surges ahead in Amethi.
09:48 - TV networks call the election for BJP and allies; Narendra Modi is next prime minister of India. The party and allies lead in 287 seats. The minimum seats they need to secure for grabbing power is 272.
09:45: - Modi is likely to go and meet his mother as early results give a thumping majority for his party BJP.
Political heavyweights of the BJP Sushma Swaraj, Nitin Gadkari, LK Advani, MM Joshi are all leading in their own constituencies.
Posters hailing Modi's victory are already being erected in Varanasi, one of the constituencies where he contested.
09:35 - Early leads indicate in Andhra Pradesh, where state assembly elections were also held, TDP's Chandra Babu Naidu, who ushered in the IT revolution in the southern city of Hyderabad, is headed to become chief minister.
In neighbouring Odisha, Naveen Patnaik looks set to win a straight third term as chief minister.
Sensex closing in on the historic 25,000 mark
09:30 - BJP now leads in 232 seats, Congress in 60
09:28 - Modi, who is most likely to be India's next PM, is closely watching the election results in his home in Gujarat.
Congress spokespersons appear not so confident on various television channels and their body language indicates they face a massive drubbing.
Congress decimated in the Andhra region, the rump of the former Andhra Pradesh state, which was bifurcated by the Congress-led federal government. IN Seemandhra, TDP and Jagan Mohan Reddy's YSR Congress in close fight.
In the new Telangana state, Congress holds on to a lead in 4 seats while Telangana Rashtra Samiti leads in 6 seats.
Powerful southern regional party AIADMK heads for conclusive win the state of Tamil Nadu.
09.25 - Indian shares zoom to new highs as lead positions confirm earlier prediction of a BJP win in national elections. The Bombay Stock Exchange's 30-share sensitive index, Snesex, rises 750 points to hit 24,653.
09: 20 - The Election Commission of India is constantly updating the exact count here.
Markets are upbeat by early leads and Sensex jumps 1,000 points.
09:15 - BJP and allies heading for a total tally of close to 300 seats and Congress looking down the barrel, likely to end up below 100 seats.
BJP's key strategist Arun Jaitley, who is widely expected to be India's next finance minister if Modi forms government, is leading in Amritsar.
09:12 - Arvind Kejriwal, the activist-turned politican who waged a high-profile battle against Modi, trails in Varanasi.
09:10 - Ladoos (traditional sweets) are being kept ready to be distributed in key BJP party offices in capital Delhi.
09:08: - According to preliminary results, opposition BJP is leading in more than half of parliamentary seats, riding on the anti-incumbency wave against Congress.
09:05 - Narendra Modi, BJP's prime ministerial hopeful, leads in both Vadodara and Varanasi.
09:03: - Rahul Gandhi, the scion of Gandhi family and lead campaigner for Congress, is trailing in Amethi constituency.
09:00 - Welcome to the IBTimes UK's live coverage of India election results. India has begun couting of votes following a colossal nine-phase polling during which 66% of the 815 million voters cast their votes.
The coalition led by centre-right Hindu nationalist Bharatiya Janata Party has taken the pole position in the early rounds of vote counting.
The saffron party is leading in 157 seats while incumbent Congress party leads in 55 seats.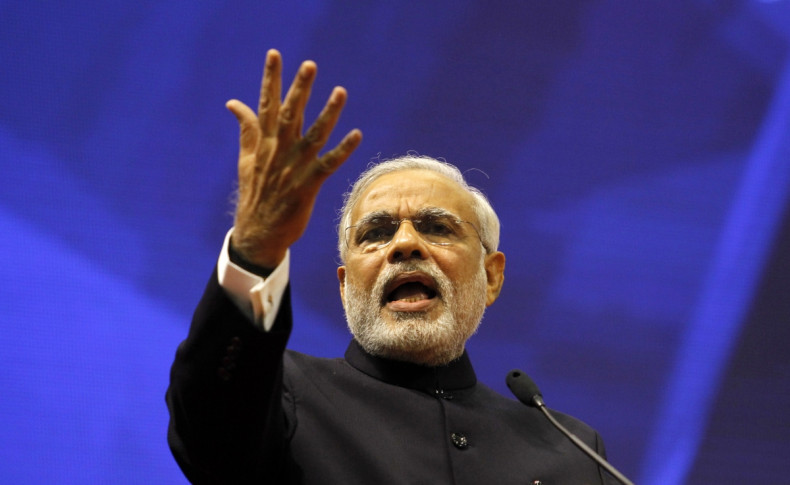 Hindu nationalist and former opposition leader Narendra Modi will be India's next prime minister.
Modi's Bharatiya Janata Party (BJP) party won an overwhelming majority and is set to surpass the 272 seats needed to control the lower house of parliament.
The Congress party and Nehru-Gandhi dynasty suffered a crushing defeat, with the party recording its worst ever election results.
Rahul Gandhi accepted defeat and took responsibility for the drubbing.
The Bharatiya Janata Party (BJP) is all set to form the next government in India as the latest lead positions indicate the right wing Hindu nationalist party and its allies are going to win more than 300 seats in the 543-member Lok Sabha, the lower house of parliament.