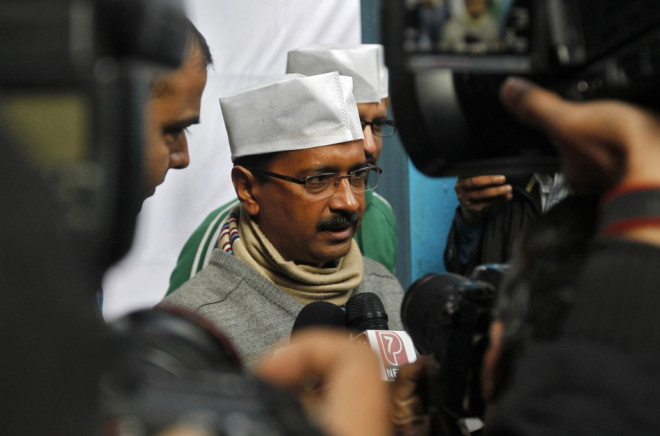 India's Common Man's Party leader Arvind Kejriwal enjoys loads of donations every time he is slapped while campaigning for the national assembly polls.
The slaps, punches, and eggs thrown at him apparently unleash a wave of sympathy for the leader, who is struggling to meet his donation targets this election season.
Kejriwal has faced several attacks while campaigning, but he couldn't have asked for more. The attacks prove to be immensely lucrative for the Common Man's leader. The last time he was slapped, he registered a sudden spurt in donation worth £85,000.
His party's website shows the donation he receives per day, and a clear trend has emerged linking attacks on him and the donation he receives the following day, the Firstpost reported.
The data sourced from his official website shows that the days particularly good for his coffers were closely predated by slaps, punches, and egg attacks.
So far, the party has only been able to muster £2.4 million from 86,649 donors in 111 countries, according to the Times of India. The collected amount falls short of the party's target of £10 million.
When the chief of the Common Man's Party was punched on 4 April, his online donations went up to £135,000 from £35,000 the previous day.
On 25 March, ink and eggs were thrown at the leader, and subsequently his donations shot up to £48,000 the next day.
The latest slap on him by an autorickshaw driver was incidentally also the hottest trend on Facebook and Twitter in the country, giving him a publicity boost in the crucial campaigning hours.
Kejriwal attributed the slaps and ink-throwing episodes to a political conspiracy against him.
"I am just thinking... why am I being repeatedly attacked? Who are the masterminds?" he said.
After the latest slapping incident, Kejriwal went to meet his attacker at his residence and gifted him a bouquet of flowers and fruits, as an expression of forgiveness.
However, given the publicity and booty the incident heaped on the leader and his party, the gesture might as well have been a big 'Thank you.'