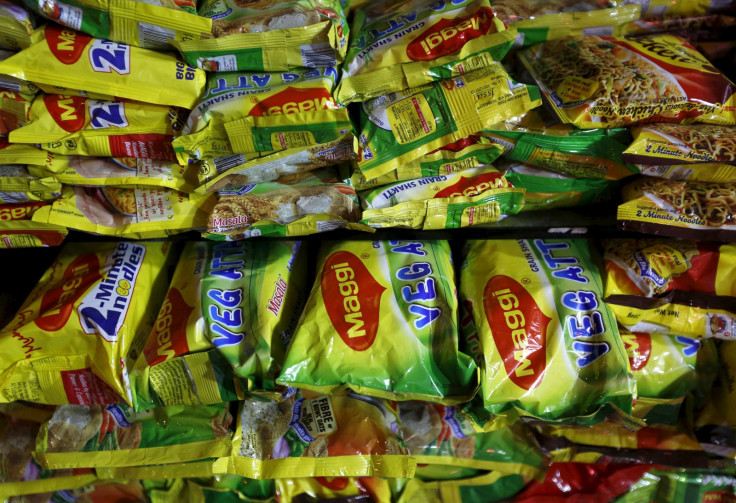 They say Maggi noodles take two minutes to cook and in India, never more than two minutes to find. But in June, a food scare saw them taken off the shelves after Indian food safety authorities claimed they contained dangerously high levels of lead and banned their production and sale.
Relaunched earlier this week by parent company Nestle, who voluntarily withdrew and destroyed 400 million packets of the product earlier in 2015, it appears India's appetite for the fast food product remains as insatiable as ever. E-commerce platform Snapdeal reported it took just five minutes for 60,000 "welcome kits" of Maggi to sell out after they went on sale on 9 November.
"I'm a huge fan of them," Snesha Nukherjee, a reporter for the Cover Asia Press Agency told IBTimes UK. "I love them as do all of my friends. None of us are good cooks so they are perfect."
The 26-year-old from Delhi added that like baked beans in the UK, they were traditional student fodder. "We used to ransack each other's rooms for Maggi which was always at the top of the list," she said. "It's great that they are coming back."
Rita Paul, an optician from Mumbai, told IBTimes UK they were "like the taste of childhood" for her. "No one could believe it when they stopped being on sale. People were saying: 'What are we going to do,'" she said. "I'll get some as soon as I can."
After their arrival in India in 1983, the "two minute noodles" advertising campaign launched on state run television turned them into an instant attraction. Priced at 12 rupees (12p), a serving the brand was able to transcend age and economic divides and within 25 years commanded 90% of the country's quick noodles market. At the time of the ban, it had around 80%.
Dominant player
When the brand launched the "Me and Meri Maggi" campaign in 2008, more than 30,000 people sent in their personal Maggi stories. While other brands mounted challenges, Maggi remained the dominant player in the field and in 2014, India's Most Trusted Brands Survey by Brand Equity placed it at number one in the food category.
That faith was to be shattered in May, when the Food Safety and Standards Authority of India said laboratory tests had found higher-than-allowed levels of lead in some packets and declared the products were "unsafe and hazardous". Production and sale of the products was banned.
Disputing the findings, Nestle said in a statement it had tested packets and found lead levels were "well within the limits specified by food regulations". Due to an "environment of confusion for the consumer" the Swiss multinational food company said it had decided to withdraw the product from the shelves.
Over a 40-day period, the company began a massive logistical operation to source and destroy 400 million packets, or more than 27,000 tonnes of noodles. The company said it was one of the largest ever recalls not only in its own history, but the entire food industry.
As the destruction commenced, so did the court battle. In August, the Bombay High Court called the ban on the popular noodles "arbitrary" and said it violated the "principles of natural justice" but ordered the products tested.
Nestle said in a statement in October that 90 samples, covering six varieties, were found to be safe for consumption. As a result, the court lifted the ban on manufacturing and sale of the noodles, they said. However, India separately sued Nestle for $100m (£64m) over "unfair trade practices".
The ban had already taken its toll, though. In October, the company cited it as one of the reasons for cutting its 2015 growth outlook to around 4.5%, below its long-term forecasts for 5%-6% growth. However, with Maggi back on the shelves, Suresh Narayanan, the chairman of Nestle India, said he was confident Maggi's bonds with customers would "grow even stronger."
No one from the Food Safety and Standards Authority of India was available for comment despite repeated requests from IBTimes UK.