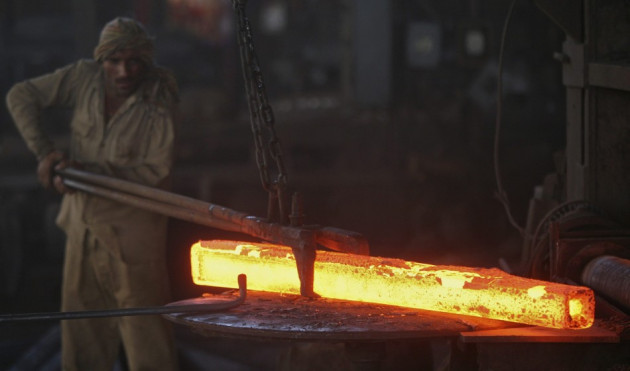 India's Industrial output surged 8.2 percent in October as the manufacturing and electricity sectors witnessed substantial growth. The data followed September's revised contraction of 0.7 percent.
The general index for the month was at a reading of 171.3, up 8.2 percent from the same period last year, according to India's Central Statistical Office (CSO). Analysts polled by Reuters had expected a rise of 4.5 percent in October output.
On a cumulative basis, the index rose 1.2 percent year -over- year for the period from April to October.
Mining sector activity shrank 0.1 percent in October, while the manufacturing and electricity sectors recorded growth rates of 9.6 percent and 5.5 percent respectively.
Industry-wise, 17 out of the 22 industry groups in the manufacturing sector, which accounts for more than 75 percent of total industrial output, posted positive growth in October as compared to the same month last year.
Based on use, capital goods component rose 7.2 percent year over year, compared to a 12.9 percent contraction in September. Consumer goods growth rate was 13.8 percent year-on-year.
The data comes as the economy is suffering from a recent slowdown in its growth rate. India's Gross Domestic Product (GDP) has slowed down to 5.3 percent during the July to September quarter due to the country's reluctance to take up reforms and continued monetary controls.
Despite the growth, a sustained manufacturing revival in the country is not imminent, according to research firm IHS Global Insight.
"While the news is certainly positive, IP has been extremely erratic over recent months, indicating that a sustained manufacturing revival may still not be around the corner," said Jyoti Narasimhan, senior principal economist at IHS Global.
In an attempt to boost economic activity, India has recently opened its retail and aviation sectors to foreign investors. Nevertheless, it will take some time for the new structural and regulatory reforms to result in a positive impact on the real economy, according to IHS Global.
Inflation continued to rise restricting the central bank to cut interest rates to help boost economic growth. According to separate official data, consumer price inflation edged up year- over- year to 9.9 percent in November from 9.8 percent in October.
There have been pressures mounting on Reserve Bank of India (RBI) to cut prime interest rates and reserve ratios in line with slowing down economic growth. However, the central bank is currently focusing on containing inflation, while acknowledging weak industrial and investment conditions.
The wholesale price index inflation remains at a high point at present and the RBI will closely watch November inflation data due later this week. IHS Global expects a 50-basis-point repo rate cut in January 2013.
IHS Global also maintained its GDP forecasts for the country at 5.1 percent in fiscal year 2012/13 and 5.8 percent in fiscal year 2013/14, citing domestic investment weakness and prevailing external headwinds.