India: Is the Government Trying to Lessen Hazare's Influence?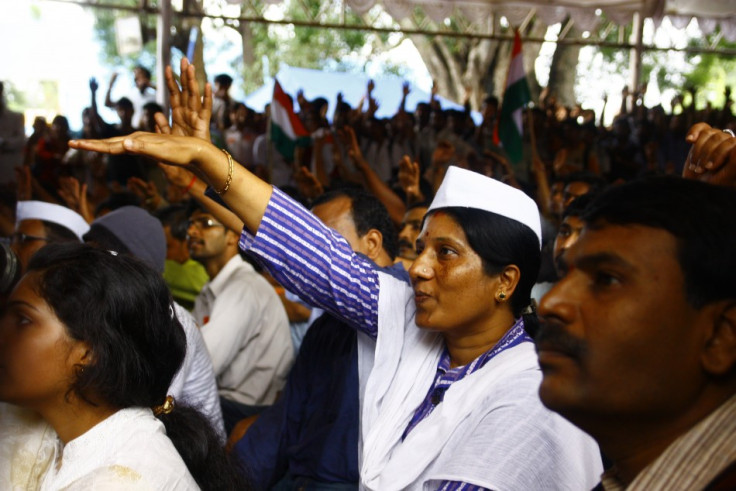 As Anna Hazare refuses to end his hunger strike, the Indian government, feeling the pressure, has decided to meet with of all major opposition parties to arrive at a compromise that will satisfy the 74-year-old Gandhian activist.
The government's turnaround proves that Hazare's influence has grown and by inviting other opposition parties to join in the negotiation, Indian authorities prove they want to breakdown and minimise the activist movement.
In his opening remarks, the PM explained the status of his minister's negotiations with the activists and said he felt concerned for Hazare. Facing a barrage of criticisms by different factions of society and with angry activists from Hazare's movement, the minister insisted on the flexibility and good will of the government in fighting corruption by leading an inclusive rather than exclusive discussion.
"The fast of Shri Anna Hazare and his failing health are a matter of concern to all of us. Yesterday, I felt that I should take a personal initiative to appeal to Shri Anna Hazare to end his fast so that we may work together in a spirit of cooperative engagement to bring into existence a strong Lokpal." Manmohan Singh said.
"Accordingly, I wrote to him requesting him to end his fast and reiterated Government's intention to pass the best possible Lokpal legislation with inputs from civil society and on the basis of the broadest possible consensus. I said that the matter was with the Standing Committee and the Committee was entitled to consider not only the Bill introduced by the Government but the Jan Lokpal Bill and other versions like those prepared by Shrimati Aruna Roy as well. I said that our Government was prepared to request the Speaker of the Lok Sabha to formally refer the Jan Lokpal Bill also to the Standing Committee for their holistic consideration along with everything else." Singh added.
During his speech, Singh announced that rounds of talks with Anna and his team, there was some hope of renewing dialogue finding a solution to an issue that had become embarrassing for the government.
"Following this, Shri Anna Hazare agreed to hold discussions with the Government. Accordingly, Shri Pranab Mukherjee and Shri Salman Khurshid met with three of his representatives to find a way out of the present impasse,"the PM added.
Law Minister Salman Khurshid, later on provided reportwers with more details on the talks by saying "If there have been two meetings in last 24 hours, I cannot say we are stagnant....Some hope must have been there...We are trying to find out possibilities of finding some solution...(and) trying to know what is the difficulty and where."
Khurshid, however also clarified there has been "no agreement (and) no specific content and no issue has been discussed. Just a sense of it...What are the sticking points that can be removed so that his fast can be broken...That is all we are trying to do."
However warning that the governmental move did not reflect a radical change of position the Lokpal Bill, the Law Minister warned "I want to say clearly that no draft has been prepared but when we talk, some things comes out of it," he said, adding that the government was trying to work out the modalities for the dialogue. "
The government has thus adopted a new tactic as it attempts to limit Hazare's influence and symbol as an opposition leader by pushing forward other opponents and asking for their opinions and views.
Hazare's message grew at a record speed following his arrest, but just a few months ago, the Gandhi disciple was far less known. In fighting against corruption, Hazare clearly showed he also was willing to stand against the government and had pre-empted his arrest, releasing a pre-recorded video message just a few hours after his arrival in jail.
His dress style also resemble Gandhi's and after being disappointed by the government, following a series of scandals involving officials, the image of the Mahatma is reassuring to many.
As the negotiation takes place, it will be interesting to see if Hazare manages to dominate the opposition camp.
© Copyright IBTimes 2023. All rights reserved.