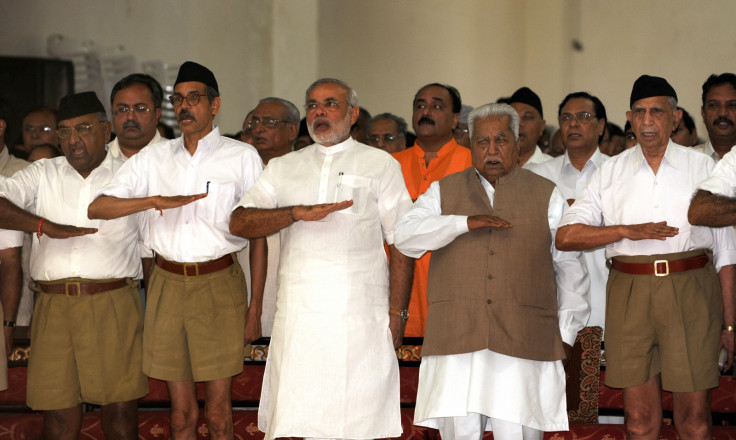 The mass conversion to Hinduism of more than 200 Muslims in the northern state of Uttar Pradesh has sparked religious controversy in India, involving an extremist group with links to the ruling BJP party and Prime Minister Narendra Modi.
The nationalist Rashtriya Swayamsevak Sangh (RSS) said more than 200 Muslims were "brought back to Hinduism" in a mass event held in Agra. Many of the converts claimed they joined the RSS during the "ghar vapsi" (re-conversion) ceremony after being offered ration cards and houses.
The event was described as re-conversion as it allegedly involves Muslims who had Hindu ancestry. An official with the Bajrang Dal party, another Hindu nationalist group linked with the RSS, admitted the converted will be registered to vote and get ration cards. The two nationalist parties worked hard for three months "to persuade them to convert to Hinduism", he said.
The newly converted are members of 60 Muslim families living in extreme poverty in a slum on the outskirts of Agra, which houses the famous Taj Majal. They were given a "mantra" to chant the whole day and washed feet of Hindu idols to mark their "return to the religion".
"The RSS people assured us that they will provide us better place to live, better food and schooling for my grandsons. I don't mind change of religion, as religion doesn't give us food to eat," one of the converts, Sofia Begum, told The Times of India.
RSS regional leader Rajeshwar Singh said around 5,000 Muslims and Christians "will be brought back into Hindu fold" during a grand event at Christmas.
The conversion ceremony angered opposition MP and Dalit leader Mayawati who blamed the conservative Hindu BJP (Bharatiya Janata Party) of premier Modi for the controversial initiative.
"This is a serious matter as allurement was given to poor [people] to get them converted," he said, according to the Times of India.
The opposition asked the government to guarantee religious freedom of minorities, as enshrined in the country's constitution.
"The House and the country need reassurance that the Constitution will not be violated," Congress leader Anand Sharma was quoted as saying by NDTV.
The far-right RSS has been banned several times in India after a former member assassinated Mahatma Gandhi in 1948. Modi was once a full-time RSS worker.
In the 1980s, the group campaigned to build a Hindu temple at the place of a medieval mosque in the northern town of Ayodhya. The mosque was eventually demolished in 1992.
The organisation has been accused of preaching hate, supremacy of Hindus against minorities, and having a sectarian and militant agenda. RSS's uniformed cadre parade in khaki shorts and white shirts, chant patriotic songs and highlight the lost glory of Hindu India.