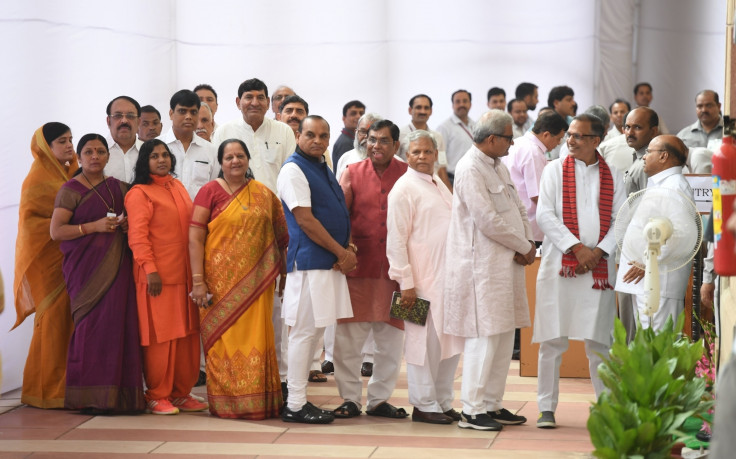 India, the world's largest democracy, embarked on another polling exercise on Monday (17 July) to choose its next titular head of state, the president. Around 5,000 parliamentarians and legislators from across the country cast their ballot in the polling.
Besides the members of parliament, which includes 233 from the Rajya Sabha (upper house) and 543 from the Lok Sabha (lower house), elected members of legislative assemblies in 29 states and seven union territories are empowered to cast their votes.
These members form what is known as the electoral college and choose the Indian president through the system of proportional representation from the vastly diverse nation of 1.25 billion people.
Each member's vote carries a certain value ranging anywhere from eight to 208, depending on the population of a particular constituency the lawmaker represents.
Members vote in one of the 32 polling stations specially set up in the state assemblies and in parliament between 10am and 5pm.
The ballot boxes are then brought to the capital New Delhi, where all the votes are counted and the results subsequently released.
The outcome of the presidential elections will officially be released on 20 July this year and the new president will take charge on 25 July, the day when the incumbent Pranab Mukherjee's term ends.
The predicted outcome of the presidential polls is heavily tilted in favour of Ram Nath Kovind, the ruling party-nominated candidate who is currently the governor of the state of Bihar. Kovind is expected to secure more than 70% of the votes.
The 71-year-old is a two-time Rajya Sabha lawmaker who belongs to India's Dalit community, which has long been considered a minority caste in the country's complex societal structure.
The fact that Kovind belongs to a particular minority community is seen as a strong reason for the ruling Bharatiya Janata Party (BJP) to nominate him in order to cement a voting base among Dalits.
To counter BJP's strategy, an alliance of 14 opposition political parties – both regional and national – pitched Meira Kumar, a former Lok Sabha speaker who is also a Dalit, as their presidential contender. The contest has been termed as "Dalit vs Dalit" in the Indian media.
However, her chances of winning are reportedly slim as the BJP and its allies have made sure that they have enough numbers.
"The presidential poll this time is historic. Probably for the first time no party made any undignified or unwarranted comment on the rival candidate," said Prime Minister Narendra Modi, who was among the early voters on Monday morning.