Indian Prime Minister Narendra Modi has asked officials to rework a policy that aims to provide health care to a sixth of the world's population, after cost estimates came in at $18.5bn (£12.5bn, €17.1bn) for five years.
India's health ministry proposed rolling out the so-called National Health Assurance Mission – designed to provide free drugs, diagnostic services and health insurance for the nation's 1.2 billion people – from April 2015, and had projected its cost at $25.5bn over four years.
When the project was presented to Modi in January 2015, the costs had been cut to Rs.1.16tn ($18.5bn) over five years, Reuters reported.
But New Delhi thought that was still too much and asked the ministry to revamp the policy, but work is yet to start, the new agency added.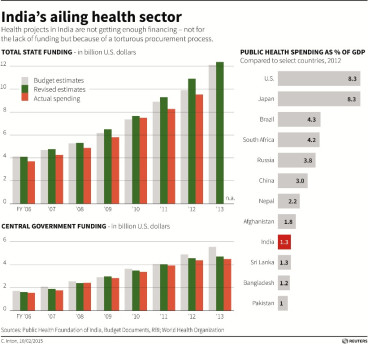 Despite rapid economic growth over the last two decades, the Indian government spends only about 1% of GDP on public health.
By comparison, the US and Japan spend 8.3%, while Brazil and China spend 4.3% and 3% respectively.
New Delhi has set aside a mere Rs.297bn ($4.74bn) for its healthcare budget for the financial year 2015-16, which begins in April.
That figure is about 2% higher than the current year's revised budget of Rs.290bn.
And Indian states manage their health budgets separately.
The universal health plan was drafted in consultation with Modi's office and an expert panel, which included an expert from the World Bank. The proposal included insurance to cover more expensive and serious ailments such as organ failures or heart surgeries.
The World Bank and the UK's National Institute for Health and Care Excellence (Nice) will assist Indian authorities, providing technical assistance and advise on treatments the government should offer in the package, the bank said in October 2014.
Poor infrastructure
Healthcare infrastructure is grossly inadequate in the world's second-most populous nation; there are just nine hospital beds per 10,000 people in India against 41 per 10,000 in China, the world's most populous nation.
Thirty-nine million Indians are pushed into poverty every year because of "high out-of-pocket" medical costs, a 2011 study by medical journal Lancet showed.